When Anil Kumble scared Brian Lara

Wisden India
20-07-2016
Most ghosts are best left undisturbed, once they have had their run of earthly turf. But some, like the Ghost of Antigua, are worth revisiting, even if one would not wish a re-haunting on anyone in the process.

To be in Antigua with the Indian cricket team, and watch Anil Kumble put the kids through their paces, his astute eye keeping a watch on their handiwork on slow, low practice pitches, and not cast a pithy eye back to 2002, would be churlish.
Back then, Kumble was batting, pushed up the order to protect a young and fresh Ajay Ratra as West Indies took the second new ball. A young Mervyn Dillon banged the ball in short, and Kumble – now coach but then a mere lower-order batsman who coach John Wright believed had the right technique to see off one spell – ducked, weaved and wore one on the jaw.
Kumble was not attempting a dramatic pull or a desperate hook, but rather, was getting out of the way. "It was banged in short and I lost it," Kumble told Wisden India, recounting an incident he would rather forget than be forced to relive. "It hit me on the jaw and I felt something was missing when I swirled my tongue around in my mouth. I felt something was wrong. Andrew Leipus came to the middle and there was blood spewing all over the place. I asked him to take a look and he said my teeth were all in place, nothing missing."
Slideshow: 25 cricket world records you must know about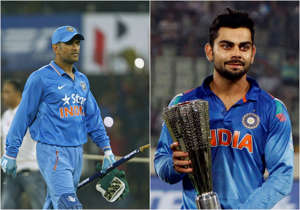 So he batted on. Two overs later, Kumble was dismissed, again a short ball, this time parried to Shivnarine Chanderpaul at backward short-leg, something the champion remembers well.

"I remember it was a Saturday. Once I was out and in the dressing room, an announcement was made on the PA system asking if there was a doctor in the house," recalled Kumble. Of course there was, but the good doctor in question was enjoying his day off, and showed up in the dressing room pint in hand, jammy shorts and flowery shirt doing little to hide his festive mood. "He checked and said everything was fine. I was then taken to the local hospital, for an X-ray, and they had no facility to do an oral X-ray," said Kumble. "They made me lie down and shot the X-ray film from where they could, and the image was so vague that it could barely capture the eye sockets, forget about a crack in the jaw." At the hospital, a specialist doctor came in and he too saw nothing amiss, and Kumble was sent on his way.
Back at the team hotel, chewing painkillers like they were breath mints, Kumble hit the gym. Assuming he had to bowl the next morning, Kumble set about his usual upper-body strengthening workout. The jarring pain was horrible, and when time for dinner came, all he could manage was a couple of sips of soup. If all the doctors in the world said otherwise, Kumble knew something was badly wrong.
---
Suggested by Microsoft Store
---
At 10.30pm, Kumble and team took a call from Dr Raj Jamula, a dental expert in Antigua who was both a cricket lover and a Bangalorean. Having moved to Antigua in 1999-2000 to set up his practice along with his dentist wife, Jamula knew a thing or two about what he was dealing with. While Jamula offered to come across right away, the consult was deferred to the next morning. "You can't ask a doc to come out at that time on a Saturday night in Antigua, can you?" said Kumble, showing what cricketers of the time were made of. The next morning, Kumble showed up, and the tune changed.

"We were lucky that it was a weekend and I was able to open up my clinic and give him the individual attention he needed," Jamula told Wisden India. Once the appropriate oral X-rays were done, it was clear to the specialist that there was a serious problem. "On the left side of the jaw, there was a fracture. The two parts had separated and it was immediately clear they needed to be held together. Working with a colleague, I put in some wiring, trying to keep the two sides together."
To this day, Kumble does not even have a scar to vouch for the trauma he went through. Kumble does not remember how many injections he had to the jaw before Dr Jamula could install the temporary fix, but even as the job was done, the competitor in him rose up. "Doc, can I bowl tomorrow?" asked Kumble, pithy as ever.
"Honestly, I was a bit surprised by his reaction. As soon as I wired him up, inside his mouth, something changed in his expression. He told me he didn't feel pain any more, and funnily enough, was standing up and rolling his arm over, trying to see whether he could bowl," recalled Dr Jamula, who was then surprised but has since understood that this patient of his is a bit special.
On the morning, broken jaw in tow, Kumble watched Sachin Tendulkar rip his legbreaks into the rough and beyond a point could not contain himself. "I'm going to go out and bowl," said Kumble to a dressing room that did not take him seriously enough. Through the thicket of disbelief that included a skeptical physio, a reluctant captain and anxious teammates emerged a force of nature that breezed through the Antigua Recreation Ground like a gust unseen. "Look, I knew that I was going back the next day. So, if I made things worse, then the docs in Bangalore could deal with that also. I'd spoken to my wife and she had organised that part of it."
Nobody took Kumble seriously till he got on the park and snatched the ball to himself. Leipus, the physio, tried to minimise the damage, putting in a call to the good doctor. "All I said was that Anil stay out of the line of danger, of getting hit again, either bowling or fielding," said Dr Jamula. "In the interim, if the jaw could be kept as tightly bound as possible, that was best."
Enter Leipus, who stood vigil during a 14-over spell, improvising a bandage that gave life to the ghost of Antigua, holding together his man at the end of each over. Kumble doesn't particularly like talking about Antigua 2002, joking that journalists never ask him about the good times in his career. But he does remember a few things about that spell. "I got (Brian) Lara out. Probably because he looked at my bandaged face and didn't really focus on watching the ball I bowled. Maybe I scared him that way," said the modest assassin, a decade and a half later.

Ask him if it was difficult to bowl without appealing and he is quick to correct you. "Watch the video. Every time you hit pad in front, you appeal. It doesn't matter whether you can open your mouth or not," said Kumble. Sure enough, there's the Lara dismissal, and also Carl Hooper sent back, only to be reprieved by a rare no-ball, fuelled possibly by a combination of adrenalin and pain-killers.
When all was said and done, several West Indian players likely came to Kumble and showed their admiration. "I know Dillon [who delivered the knockout bouncer] came and spoke to me, and so did others. But it's all a bit of a blur. I don't really remember that part."
Everyone in the Caribbean, and those who watched it beyond, remember the blur that was Kumble in the bandage. This was not quite Phantom, the Ghost who walks, but Jumbo, the apparition who gives it a rip.