When MS Dhoni lost Sakshi
India's most loved cricketer Mahendra Singh Dhoni is celebrating his 36th birthday on Thursday. We all know Dhoni as 'captain cool' of Indian cricket. Dhoni is a also cool person outside the cricket field. However, his love story with beautiful Sakshi Rawat is not so cool.
The Dhoni-Sakshi affair is like a Bollywood-inspired love story. Although Dhoni and Sakshi knew each other since childhood, they fell in love at a much later stage. As Dhoni and Sakshi's fathers worked in MECON in Ranchi, their families had a cordial relationship. Even they were admitted to the same school in Ranchi. Later, Sakshi's family moved to Dehradun and they failed to stay in touch.
In November-December 2007, Dhoni met Sakshi in Kolkata. During the India-Pakistan series, Dhoni was staying at Taj Bengal hotel, where Sakshi was working as an intern. And, their love story began in the 'City of Joy'.
How Sakshi Rawat walked back into MS Dhoni's life
Before marrying the love of his life, Sakshi Rawat, India's World Cup winning skipper Mahendra Singh Dhoni dated many women. The tragic story of Dhoni and his late girlfriend Priyanka Jha was well documented in his biopic 'M.S. Dhoni: The Untold story'. However, after Priyanka's death and before Sakshi's arrival into the life of the Ranchi lad, he dated several tinsel town actresses. Here are the ladies Dhoni dated in the past.
A peek into life of MS Dhoni's wife
The Board Of Control For Cricket In India (BCCI) made the heartbreaking announcement on Wednesday (Jan. 4, 2017) that Mahendra Singh Dhoni has stepped down as India's limited-overs captain. Dhoni not only holds the record for most matches as captain of an international side, with 331 games across all formats, but also is the only captain to have won all three ICC trophies - ODI World Cup, World Twenty20 and the Champions Trophy.
Mahendra Singh Dhoni's wittiest quotes
When MS Dhoni was scolded by his school teacher

"Once I was scolding Dhoni because he had missed so many classes and I was concerned because exams were nearing. He kept quiet. Gautam, his friend, told me, 'ma'am don't scold, he has scored a century'. That day I stopped scolding him. A few years back he had come to school, and offered to drop me home. I said that I wanted to invite the boys home for dinner. He had a naughty smile and said, 'ma'am, why only boys?'," said Sarmistha Kumar, Dhoni's accountancy and business studies teacher in Class XI and XII.
Rare photos of Mahendra Singh Dhoni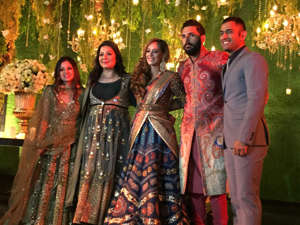 MS Dhoni's journey: From a football goalkeeper to India's national hero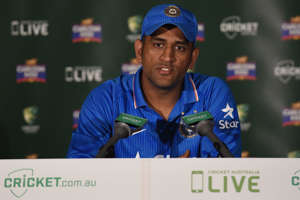 Watch: Five times MS Dhoni made us laugh