Why Australia has no chance of beating India

The Roar
22-02-2017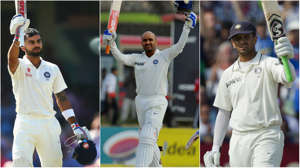 The early signs from the tour of India is all is not well.
There will be no homework saga this time round but with a 3-0 drubbing, like his predecessor four years' prior, this could well be the end of the road for Darren Lehmann.
As we saw during the nadir of the Australian summer after the defeat at Hobart, all is not necessarily well in the relationship between Lehmann and his employer – in particular with his immediate boss Pat Howard.
Of course, expectation of Australia coming out of this series other than wounded is foolhardy. If they force one draw they will have done well.
But the reality for Cricket Australia is that Lehmann's record as a coach overseas is uninspiring.
In all the record stands at 23 Tests, for just nine wins – five of those against New Zealand and West Indies, with only another four wins in 18 Tests.
The pressure is real not perceived, and how he manages this tour will be crucial to his future.
---
---
But things have started badly and you suspect are about to get worse. 

The decision to have a training camp in Dubai and just one practice match in Indian conditions lacked foresight, forcing both captain and coach to reveal their views on who they favour.
The absurdness of having only one practice match has created an unnecessary schism in the team dynamic.
Two matches would have given the opportunity for all squad members to press their case.
What it has done instead has sent a loud message to both Usmain Khawaja and Glenn Maxwell that you are not wanted.
Usmain Khawaja is a class act and just because of a poor tour of Sri Lanka he has now wrongly been pigeon-holed as someone who is unable to play spin.
The selectors and coach should hang their heads in shame.
Watch: 'Virat a champion player but Sachin will remain Sachin'
This is the stuff that gets into people's heads and has the been the end of those with equal talent. I think of Robin Smith of England, who got the same label after one poor Test series against India in India which wrongly blighted his reputation.
This is not to say Khawaja will not play in the series, but what it does say is that Matt Renshaw has been prioritised above you and they think Shaun Marsh is a better player against spin.
Fair enough possibly but hardly awe-inspiring man management.
No thanks for the runs over the summer, but rewind to the Lehmann media conference in Hobart you get a glimpse that Lehmann may not be the biggest fan of Khawaja.
Khawaja had top scored with 64 in the second innings, holding on well to be not out on Day 3 with a fifty. Admittedly he got out early on Day 4 but reward enough you would have thought to be regarded a certain starter for the third Test in Adelaide.
Not in Lehmann's eyes. He only included four certainties for Adelaide (Smith, Warner, Starc and Hazlewood) and for someone who had managed a fifty in the first two Tests it must have sent a message.
He was interviewed about it on Channel Nine after scoring his century in the first innings in Adelaide but said he had not heard Lehmann's comments. Of course he had and it would have hurt.
The other pressing issue facing Lehmann and captain is how to manage Maxwell for the remainder of the tour. They clearly have no faith in him and there is the very real possibility that his tour will end with 17 runs and six wicketless overs. 
What is not raised is how to manage young men with ambition in a competitive work environment. Let's not pretend all is well in the relationship between Maxwell and Wade, let's not pretend Maxwell already knows his captain and coach have no faith in him.
Let's not pretend Khawaja is feeling slighted and hurt.
What all of this done has created a schism with two of the older players sitting on the bench with the youngsters Mitch Swepson and Ashton Agar and it's still another six weeks before you return home.
Six weeks of simmering inside in hot and humid conditions.