Why England are lambs for the slaughter

Hindustan Times
11-12-2016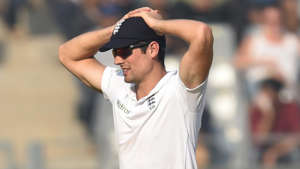 When England posted 400 in the first innings of the fourth Test against India, it seemed as though history was getting repeated. England have 400-plus totals in their last two Tests at the Wankhede Stadium and have emerged victorious on both occasions.
Alastair Cook would have hoped Virat Kohli's men would falter and surrender like how India did in the 2006 and 2013 Tests at Wankhede. But the Indian Test skipper led the fightback, adding a different twist to the tale this time.
Thanks to Murali Vijay and Kohli's tons, the hosts not only managed to go past the England score, but also took a lead of 51 runs at the end of the third day's play.
Former England skipper Allan Lamb felt Cook made a tactical blunder by not having an extra spinner in the playing XI.
"It is very obvious that Cook has goofed it up big time," said Lamb. "On a surface like this, you needed an extra spinner. It is quite clear when Ravichandran Ashwin and Ravindra Jadeja shared 10 wickets between them in England's first innings.
"Out of the 17 wickets that have fell in the first two days of the Test, only one wicket has gone to a seamer. Rest all have been claimed by spinners. It is hard to understand why England chose to play with just two specialist spinners," added Lamb, who operates a cricket tour-cum-sight-seeing business in the UK.
Cook dropped off-spinner Gareth Batty for the fourth Test in favour of seamer Jake Ball.

On Saturday, Joe Root's part-time spin fetched England the wickets of Parthiv Patel (15) and Ashwin (0) in back-to-back overs. Though the bounce in the wicket was helping the ball come onto the bat, it was the vast turn that was on offer which was troubling the batsmen.
Root, the England vice-captain also felt they missed an extra spinner.
"In hindsight, we would have liked to play an extra spinner. But we have to look forward to the remaining days in this game and should individually make sure to use of our skills and take wickets on this surface. We just have to make sure we make the best of what we got. The way we approached today on the field, we gave everything. But sometimes it doesn't go your way. All we can do tomorrow is make sure that our skills are right," said Root.
Lamb expects the England batsmen to struggle in their second innings.
Slideshow: 25 most controversial cricketers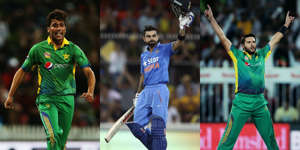 "If India take a good first innings lead, then England are in big trouble because this wicket is only going to spin more on the fourth and fifth day. And against top-class spinners like Ashwin, England are going to find it more difficult to bat," said Lamb.

"We don't have the class of Graeme Swann. Adil Rashid is a good spinner, but he hasn't played too many Tests. Mooen Ali is not top-class. India is very strong in their spin department," added the South African who played international cricket for England due to the apartheid ban.
Watch: 'Kohli comes from an undiscovered planet'