Why Indian fashion needs Virat Kohli

Livemint
08-04-2016
Type "Virat Kohli shirtless" on Google and some captivating photographs come up. One shows Kohli in a swimming pool, soaked in self-consciousness, eyes shut, hands stroking back wet hair, virility on full show yet showcased in the style of a Bond girl. The other has him with just a towel around his waist, photographed in August in Sri Lanka. His shirtless-ness in Nike's Bleed Blue campaign shows his perfect abs, but it's the shirtless selfie posted on his Instagram earlier this year that gives away more than the terrific cuts of Kohli's pectorals, his enviable six packs and a deeply tattooed right arm. It offers a glimpse of one of India's most talented and persevering cricketers as a young man who loves his body and loves showing it off.
My case is actually for Indian menswear, desperately in need of an audacious and resolute endorser. A man of purpose to embody clothes which have finally begun to find a distinct identity beyond multicoloured florals on the one hand and a sharp classicism on the other.
Two major fashion weeks took place in Delhi and Mumbai recently, and hundreds of photographs found their way into newspapers. Yet the Indian who made the most news, and for the most newsworthy reasons, in these same few weeks was Kohli, the Test captain of the Indian cricket team. India may have lost the semi-finals of the World Twenty20, but the man who won the loudest applause was Kohli, for his single-minded focus on the game.
Kohli has endorsed some shampoos, cars and colas. He has even walked the red carpet a couple of times with his former girlfriend Anushka Sharma. But, by and large, he is a peacock who reserves the unfurling of his blue feathers for the cricket ground. At the moment, there is no immediate connection between fashion and Kohli.
That's why I am arguing for one. It has particular relevance because regardless of the world's growing engagement with body positivism in popular culture, India is trapped in a code of "perfection". We have stereotypes on magazine covers, in fashion shows. Perfection for us is defined either by fame in films or young, tall and thin girls and boys of different nationalities hired as models every season. They walk the ramp looking uninterested in themselves as well as in the clothes they wear. Each is then systematically sidetracked by a Bollywood actor, who takes the final bow.
At the Lakmé Fashion Week's Summer/Resort 2016 edition last week in Mumbai, assorted film stars became clothes horses. Shraddha Kapoor for Masaba, Sonakshi Sinha for Anita Dongre, Shruti Haasan for Anushree Reddy, Aditi Rao Hydari for Jayanti Reddy, Bhumi Pednekar for Sonam and Paras Modi, Gautam Gulati for Farah Sanjana, and so on. Don't ask me who wore what. Despite carefully watching piles of photographs and reading dozens of collection notes intently, I am totally lost. Film actors as showstoppers are certainly not able to lift fashion out of the tedium it sets into at fashion weeks.
But if famous and perfect must still remain our favourite words in fashion, then why not Kohli? Shirtless, he is proof of why the best shirts would look best on him. His coolness is a function of utter discipline. Known to have an organized mind, he believes that ticking all the right boxes will mould and hold his talent. He gets it right obviously. If tidbits interest you, here are some: Kohli never misses breakfast, always veers towards Japanese food because it's the healthiest (never mind the dal makhni and chhole bhature of his growing-up years in Delhi's Paschim Vihar), and eats, drinks, sleeps and works on his fitness in measures that are precisely tailored for his mind and body. He painstakingly weeds out his errors. For instance, after figuring out that he was getting out on the off side, he worked on it and is now a confident master of the cover drive. When he was dating Sharma, he had no qualms in publicly calling her his "love" on social media, but even after they reportedly broke up, he lashed out against those trolling her recently. "(He is the) No.1 superstar in Indian cricket now, and I am surprised no big clothing brand has approached him to be its face," says a cricket writer, who did not want to be named.
Menswear brand Raymond has had its Complete Man tag line for decades. So here is a "complete man in the making" for a potential campaign called The Stages of Manhood. Oh, and let's not fret about his height please.
Clothes must either tell their own stories or become characters within eminent stories to be memorable. That's what Kohli could give to Indian fashion: a story that will stay forever in books and in the mind.
Slideshow: 25 things you should know about Virat Kohli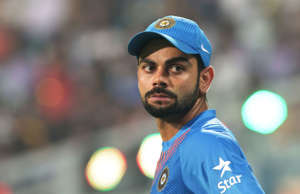 Watch: Mumbai Indians look most settled side in IPL 2016 — Sangakkara