Why superhero Ravichandran Ashwin is the new Rajinikanth of Tamil Nadu

Hindustan Times
24-12-2016
In Tamil, the word 'Thalaiva' means admired leader. In films, the term is associated with Rajinikanth. In cricket, this term is now associated with Ravichandran Ashwin.

Such has been Ashwin's phenomenal year that his Twitter handle has seen a massive increase in his number of fans. In his current display picture on his handle (@ashwinravi99), his face has been super-imposed on superstar Rajinikanth. Ther cut-out is from Rajinikanth's block-buster film, Robot.
In 2016, Ashwin has ended up with 72 wickets in 12 Tests, the highest in a calendar year. He has also won the ICC Cricketer of the year award and also bagged the Test cricketer of the year award. These two ICC awards have propelled Ashwin's popularity chart, especially in Tamil Nadu. Such is the situation that the state is now blessed with two 'Thalaivas'. The Indian off-spinner could probably be the first 'mass cricketing icon' that Tamil Nadu have been looking for.
Going by the recently-concluded India-England Test series, Ashwin and skipper Virat Kohli were the only names chanted by the Indian fans across all the five venues.
While a batsmen's name being chanted is quite regular, it was a rare instance of a bowler's name being vociferously doing the rounds of the stadiums.
Tamil Nadu has produced many cricketing icons like Kris Srikkanth and Srinivas Venkataraghavan, but in Ashwin they seem to have found a new superhero.
Often in his interviews Ashwin has emphasised of Chennai and Tamil Nadu cricket being very close to his heart. In Thursday's Twitter interaction, Ashwin credited the difficulties he faced in his journey to become a successful cricketer. "The journey thus far hasn't been a bed of roses, but if those thorns hadn't come in my way I wouldn't be half the person that I'm today," he tweeted.
The journey thus far hasn't been a bed of roses, but if those thorns hadn't come In my way I wouldn't be half the person that I m today.

— Ashwin Ravichandran (@ashwinravi99) 22 December 2016
Ever since Ashwin's success in the England series, Ashwin's stock as a 'Bollywood actor' have also risen! In one Facebook page, in a scene from Aamir Khan's blockbuster film Lagaan, there is a scene in which Aamir's face is superimposed with Kohli while the character of Kachra, the legspinner played by Aditya Lakhia, has Ashwin's face superimposed. The faces of the British players, have been superimposed with the faces of the New Zealand batsmen.
The video was created just after the end of the series against New Zealand, in which Ashwin ended up with 27 wickets in three Tests. The video highlights the helplessness of the New Zealand batsmen.
After winning the ICC awards, Ashwin's face has been superimposed on Ranveer Singh from Sanjay Leela Bhansali's film, 'Bajirao Mastani'. The song playing in the background is 'Malhari'.
Slideshow: 25 world records held by Indians in Test cricket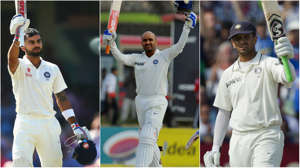 Watch: 'India now have a reliable all-rounder in Ashwin'