Why The West Indies Tour is Crucial For Anil Kumble, Virat Kohli

NDTV
12-07-2016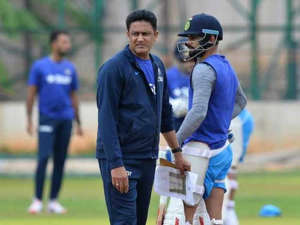 Soon after he was named India's head coach, Anil Kumble gracefully accepted his appointment and charted out his road-map for the future.

"I thought it was the right time to give back to Indian cricket. I have always put my hand up for challenges," the former Indian Test skipper said.
Kumble, who is the leading wicket-taker for India in Tests and ODIs, will start with the four-Test tour to West Indies, a place where he has enjoyed some wonderful performances in the past.
His match-winning spell of 6/78 in Jamaica in 2006 gave India their first series win in the Caribbean after 35 years but the sight of him bowling tirelessly with a bandaged jaw in 2002 was a symbol of his dedication and team-spirit.
After a decade, Kumble finds himself in a different capacity. Indian fans will expect him to instill spirit and energy into the team that is undergoing a transition. This series can apparently be a warm-up for the gruelling cricket season at home.
Watch: 'I won't curb Virat's natural instincts'
In India, the role of the coach is no stranger to constant microscopic scrutiny by media and cricket pundits. He does share both bouquets and brickbats for how the team fares on the field.
Kumble has to maintain a cordial atmosphere in the dressing room, and most importantly build a good equation with Virat Kohli, who till date had a wonderful chemistry with Shastri during the latter's tenure.
An important challenge which lies in Kumble's path is forming a perfect line-up, which is a key area of concern. Ever since the departure of Virender Sehwag and Gautam Gambhir from the international scene, India have been in constant dilemma for a perfect opening combination. The team management have tried many combinations, be it KL Rahul, Ajinkya Rahane, Shikhar Dhawan, and even Cheteshwar Pujara for the top slots.
Rohit Sharma struggled for runs last year and so did Dhawan, who is his opening partner in the limited overs format. Kumble has to ensure that the batting line-up is sorted before the first Test begins in Antigua on July 21.

On the bowling front, Kumble needs to do a lot of brainstorming for a perfect bowling combination which can run through the inexperienced West Indian line-up. The playing conditions in West Indies are different from those at home, so it will not be a wise move to solely depend on the line-up tried and tested successfully at home. He needs to think something out-of-the box.
In such a case, there would be no better opportunity than the forthcoming tour, which will not only help Kumble to communicate well with the team, but also prepare themselves for the jam-packed Test season ahead.
Slideshow: Virat Kohli - On and off the cricket field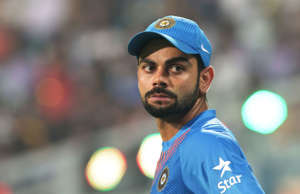 Leading from the front

If the coach has a difficult path to tread, challenges are no less for skipper Kohli as well. Having enjoyed a spectacular run with the bat in the World Twenty20 and in the IPL, where he smashed 973 runs in the entire edition, it is the time for him to quickly change gears for the upcoming tour.
Incidentally, India had won the last series outside the subcontinent in West Indies in 2011. Since then, the team's fortunes have dipped with away series defeats to Australia (twice), England (thrice), New Zealand and South Africa. Worryingly, they have shown no signs of improvement. Kohli, who started off with series wins against Sri Lanka and South Africa, has an opportunity to reverse this trend of losing away from home.
A 4-0 win in the West Indies could propel India to the top spot in Tests and put them in a good space for the home winter, where they will play 13 Tests against the likes of England, Australia and New Zealand.
Having made his debut against West Indies five years ago, Kohli has struggled with the bat against them. Averaging a paltry 27.88 in six Tests, he has not scored a century against them either at home or away. This is strange given the fact that he has scored six centuries against the Australians, five out of those being scored in Australia.
His high standards in ODIs and T20Is have not been matched in the Test arena. In the last one year, he has played eight Tests and scored 447 runs at an average of 34.38, which is slightly underwhelming. A brilliant performance in the Tests, combined with 13 at home, gives him the right platform to boost his Test record in both captaincy and batting.
A comparatively 'easy' series will also help him to experiment, so as to prepare a clear roadmap for the future. There is much to do for both Kumble and Kohli during the month-long tour.