Why Virat Kohli has done no wrong

India Today
23-11-2016
While footage of Virat Kohli's supposed "infringement", applying saliva on the ball during Rajkot Test has gone viral, and there have been calls coming mostly from foreign media on an "indifferent and biased" International Cricket Council (ICC) that fined South Africa's stand-in captain Faf du Plessis yet letting off the India captain, rules state otherwise.
Kohli has done no infringement as is being suggested and even if he had there is virtually nothing the ICC can do against him now.
Consider this first: Rules state any incident, breach or infringement has to be reported within a five-day window and if Kohli footage is from the Rajkot Test that ended on November 13, the five-day reporting window has lapsed. So even if Kohli was in the wrong, he cannot be reported.
Photos: 25 world records held by Indians in Test cricket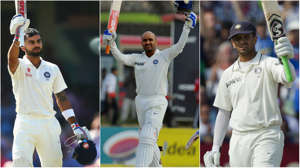 Consider more: Let's carefully examine the Kohli footage and compare it with Du Plessis's. While the camera zooms in, you can see Kohli rubbing his fingers on saliva around his teeth and then while applying it on the ball he is seen rubbing it. Now that's perfectly legitimate as the ICC rules state fielders can apply saliva to shine the ball. However in Du Plessis's case, there is a clear breach as his fingers go virtually inside the mouth, touch mint on his tongue and you then see him applying that mint-saliva on the ball. That's against the laws of cricket because the South African captain applied an external object to change the condition of the ball and was construed as ball tampering.
But not in Kohli's case.
Watch: Virat Kohli's debut ODI innings
---
---