Why Virat Kohli has the makings of India's greatest captain

India Today
28-07-2016
Virat Kohli's instant success as India's Test captain of some repute hasn't surprised the cricket world. He is the kind of cricketer that wears his heart on his sleeves, he is the kind that plays to win, he is the kind that offers no excuse in defeat and he is the kind that believes India's highly paid cricketers have learnt enough - it is now time to deliver.
Kohli loves taking on responsibilities. His overall average is a very respectable 46.28 in 42 Tests but he averages 60.8 from 11 Tests as skipper, having hammered 1096 runs in 18 innings. Five of his 12 hundreds, including a maiden double ton have come as India's Test captain.
Kohli took over the reins from Mahendra Singh Dhoni under exceptional circumstances. The Jharkhand star wasn't available for the opening Test in Australia back in 2014, which meant Kohli had to lead in a country, where India had lost their four previous Tests by huge margins. But he has never been the kind to respect history anyway and went in with his adrenalines pumping; Kohli smashed a hundred in each innings and almost pulled off an improbable victory.
Dhoni came back to lead at Brisbane and Melbourne, before calling it quits from the longest format. Kohli led with aplomb again, scoring another hundred at the SCG, where India started off 2016 with a draw. His next stop was a one-off Test against Bangladesh, which was ruined by long spells of rain.
Photos: 26 things you should know about Virat Kohli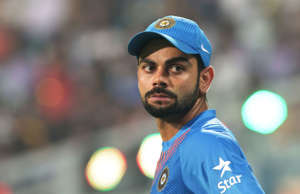 Kohli's reckoning as captain came in Sri Lanka, where he oversaw a historic 2-1 win over the islanders. He scored a hundred in Galle and followed it up with a composed 78 in the next but did not really set the scoreboards on fire on the slow, turning Sri Lankan pitches. However, it was his astute leadership, his aggressive captaincy and an uncanny knack of reading the tremors in the opposition, that allowed the team to blossom. Ravichandran Ashwin bowled like a wizard while Ishant Sharma found his mojo, which was lost after the seven-for at Lord's.
Against South Africa, on rank turners at home, Kohli won rave reviews from former skippers after his spectacular marshalling of resources. Ashwin was on fire once again even as Kohli urged his batsmen to stand up and deliver. He finally walked the talk in his own backyard at the Feroz Shah Kotla with knocks of 44 and 88 as Ajinkya Rahane smashed twin hundreds. This was by then a complete team, where the batsmen could score in difficult conditions and the bowlers could exploit those conditions better than opponents.
KOHLI ALREADY A LIMITED-OVERS GREAT!
For the seven months that followed India's 3-0 demolition of South Africa, the erstwhile world number one in Tests, Kohli returned to play limited overs cricket and owned the T20 format. He had begun 2016 on a sensational note, smashing two hundreds in India's 4-1 loss to Australia in the ODI series before turning his attention to the T20 Internationals that followed. His performances thereafter at the Asia Cup, World T20 and the Indian Premier League were catapult him to greatness. Virat Kohli had finally arrived as a true great.
As the West Indies tour drew closer, the focus shifted to India's next coach. After Anil Kumble took charge, he was quick to point out that he had no intention of curbing Kohli's aggressive instincts. Byoued further, Kohli announced a new roadmap for Indian cricket - they would play Tests to win them, even if that meant sacrificing a batsman.

For decades, Indian captains have chosen to tread cautiously, with six batsmen and five bowlers. Kohli was prepared to gamble and take ownership. For him, five bowlers meant more chances of taking 20 wickets. At the Antigua Test, after losing Murali Vijay and Cheteshwar Pujara in the first session, India found solace in their captain, who hammered his maiden double hundred in first class cricket. Together with Rahane and Ashwin, Kohli made a huge statement: "I would never ask my team to do anything I wouldn't do myself."
Victory was wrapped up inside four days. This was India's first innings win in the West Indies and the biggest outside Asia. Kohli's tactics sometimes came under the scanner but he is a captain who has shown the urgency to improve and improvise. As India gear up for the second Test at Jamaica, Kohli will be expected to lead from the front again. He wants a 4-0 series win here and he won't back down at any stage. That is great assurance for the Indian fan, who had started to get accustomed to Dhoni's somewhat defensive approach in Test cricket, where he often waited for things to happen.
Kohli, on the other hand, makes things happen. Under him, India are on the ascent, without fear of slipping and falling.
QUICK STATS
Virat Kohli as Test captain since 2014
Australia (2) - W: 0; L: 1; D: 1
Bangladesh (1) - D:1
Sri Lanka (3) - W: 2; L: 1; D: 0
South Africa (4) - W: 3; L: 0, D: 1 (Washed out)
West Indies (1) - W: 1 Tests: 11 W: 6 L: 2 D: 3
Kohli career: Tests: 42, Runs: 3194, 100: 12, 50: 12, Avg: 46.28
Kohli's run of scores since taking over as Test captain: 115, 141, 147, 46, 14, 103, 3, 78, 10, 18, 21, 1, 29, DNB, 22, 16, 44, 88, 200
Tests: 11, innings 18, Runs: 1096, 100s: 5, 50: 2