Why's Virat Kohli such a class act? Sourav Ganguly explains

India Today
15-11-2016
Captain Virat Kohli came to India's rescue with a fine 49 not out off 98 balls against England as the first Test ended in a draw in Rajkot. India lost wickets at regular intervals but Kohli remained calm and denied England from taking 1-0 lead in the five-match series.
India reached 172/6 in the final over on Day 5 before the captains shook hands for the match to end in a draw after England set an improbable 310-run victory target.
Kohli, who enjoys himself to bat under pressure, was once seen keeping the fun quotient in play. In an instance, when left-arm spinner Zafar Ansari's delivery turned and bounced and went over Kohli's head, the India captain joked with the umpire if that should be called one for the over.
Former India captain Sourav Ganguly praised Kohli for not losing the "fun bit" even at such a tense situation.
"It shows his presence of mind. He hasn't lost the fun bit in spite of being under pressure. It also shows a very clear mind of Virat Kohli as Nasser Hussain said it on air very rightly that it just shows the clarity of his thoughts. He was ready to take one ball at a time and play on its merit and that's why he's such a class act. It's good fun to watch and great to see.. and for all the athletes, there is still a bit of fun in sport in spite of being under pressure," Sourav Ganguly told India Today.
Kohli frustrated the touring side with a fifth-wicket stand of 47 with Ravichandran Ashwin, who made 32.
The pair batted out over 15 overs to take India closer to the draw before Ashwin drove left-arm spinner Zafar Ansari straight to Joe Root in the covers.
Wicketkeeper Wriddhiman Saha did not last long as India were reduced to 132 for six with enough overs still left in the match for England to force a win.
But Kohli added another crucial unbeaten stand of 40 in 10 overs for the seventh wicket with local boy Ravindra Jadeja, who remained unbeaten on 32, to deny the tourists.
Slideshow: Virat Kohli - On and off the cricket field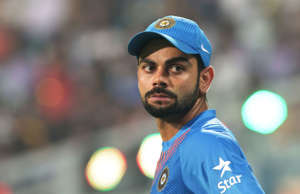 'INDIA NEED TO TAKE ENGLAND SERIOUSLY'

"India have played well to be honest. Winning a toss in these conditions will be very crucial. If England bat fourth, India will put a lot of pressure in next four Test matches. I don't think India, except those catches early on in the first session on the first day, have done poorly. When an opposition gets 500, you have bat really well. To get 488 is exactly what India did."
"Yes, there was a bit of hiccup in the afternoon today but it was still a long way away from winning the Test match. But we got to give credit to England because five Test matches since 2012 in India and they have played better than India. That is the point which India needs to keep it in mind. Except that first Test match in Ahmedabad in 2012, you look at Bombay (Mumbai), Calcutta (Kolkata), Nagpur and Rajkot, England have looked a better team. From that point of view, India need to take England a lot more seriously. I am happy to see this sort of series because for too long we have seen teams get rolled over. New Zealand got rolled over in three days and when Australia comes here..the way Australia is playing they'll get rolled over in three or four day by India."
"But this English side has fought in these Indian conditions. It's going to be a competitive series, four more Test matches to go. We will be seeing good cricket and it's a very good England side."
---
MORE ON MSN INDIA
YOU MAY ALSO LIKE
---
'BATTING FIRST WILL BE KEY IN VIZAG'

"I think it's going to be result pitch in Vizag. It's a newly-prepared pitch and both the teams will fancy their chances of winning in that Test match. Batting first will be once again be key and it will be a result Test match."
Watch: Funniest Inzamam-ul-Haq run outs
More from India Today

India Today