Wicket-meister Ashwin continues triumphant march

Wisden India
21-11-2016
Waqar Younis, Malcolm Marshall, Curtly Ambrose and Courtney Walsh – now that is a pace quartet to die for. They all finished their Test careers with 22 five-wicket hauls. Waqar played 87 Tests (373 wickets), Marshall 81 (376), Ambrose 98 (405) and Walsh, at one stage Test cricket's leading wicket-taker, 132 (519).
With the scalp of James Anderson on Saturday (November 19) at the ACA-VDCA Cricket Stadium, R Ashwin statistically equalled this celebrated foursome. When he trapped the England No. 11 plumb in front on the third day of the second Test, the Indian offspinner completed his own 22nd five-wicket innings haul in the longest format of the game. And this, extraordinarily, is just Ashwin's 41st Test.
Much has been made of the disparity in Ashwin's numbers between home and away – 23 Tests before this game in his own backyard had brought him 156 wickets, at 21.45, a wicket every 45.7 deliveries, 16 five-fors and five ten-wicket hauls. By contrast, 17 away Tests had produced 67 sticks at 33.23, a wicket every 10.2 overs, with five five-wicket hauls and a solitary ten-for. That disparity is but natural, especially for a spinner who doesn't get anywhere near as much purchase outside of the subcontinent as in it.
Take Anderson, England's leading wicket-taker, for instance. Before the Visakhapatnam Test, the swing merchant had taken just 145 wickets in 44 away Tests at 34.86, as opposed to 296 sticks in 69 games at home at 25.63; 17 of his 21 five-fors and all three of his ten-fors in a match have come in his own backyard. And Anderson has played a fair amount of cricket in Australia, New Zealand and South Africa, where he should theoretically at least be in his element. But while no one has even so much as thought of labelling Anderson a home-only hero, Ashwin is often pulled up for his lack of incisiveness on foreign shores. Such has been the lot of the Indian spinner, historically.
Ashwin, of course, couldn't care less. At this stage of his career, even as he keeps stacking up hugely impressive numbers and sweeping past one record and then the next, statistics and criticism are the last thing on his mind. Perhaps, when he puts his feet up in several years' time and reflects on what promises to be a career glorious, he will realise what dizzy heights he touched. For now, it is not individual highs that drive him, even though there is largely a striking correlation between individual feats and team successes.
Coming into the five-Test series with a mammoth 27 wickets against New Zealand in the preceding three-match series, Ashwin was temporarily neutralised by a flat Rajkot surface and England's steadfast batting as he only took three wickets in the first Test. His hunt for a maiden five-for against England, however, ended in Visakhapatnam – he now has a five-wicket innings haul against each of the seven teams he has played Test cricket against (Pakistan and Zimbabwe will have to wait). Anderson's wicket was also his 50th in Tests this calendar year, in his ninth game. Only Rangana Herath, the Sri Lankan left-arm spinner with 54, has more Test scalps in 2016.
That India do well almost without fail when Ashwin is spinning his wicked web is evidenced by seven Man of the Series awards in eight series wins since his debut in November 2011. Even in the only one that got away, against West Indies in November 2013 – Sachin Tendulkar's farewell series – he hit a hundred and picked up 12 wickets, only upstaged by two hundreds in successive Tests in his debut series by Rohit Sharma. All it illustrates is that Ashwin is now far and above anyone else India's greatest match-winner with the ball currently. And never mind his increasingly impressive run with the bat. At the last count, Ashwin had either taken five wickets in an innings or made at least a half-century on 32 occasions in his 40 Tests before this. The ICC rankings sometimes might appear difficult to comprehend, but there is no doubt why Ashwin is currently occupying pride of place among the allrounders.

The Visakhapatnam five-for didn't come easy. Ashwin was strangely taken off on Friday evening, not long after Jonny Bairstow arrived in the middle, after a magical spell of 12-5-15-2 during which every ball did his bidding. The ball came out of his hand beautifully, the wrist and fingers and body and hips and feet in perfect sync, the work on the ball impressive, the revolutions facilitating dip and drift and turn which all combined to prove too much for the hapless Ben Duckett.
---
---
Those two sticks – Duckett and Joe Root – had come from the Pavilion End. Again strangely, Virat Kohli did not employ him from that end at the conclusion of that spell. He sent down one exploratory final over of day two from the opposite Press & Media End, and all his 16.5 overs on day three also were from that end. He wasn't releasing the ball as nicely, his rhythm was a little off to start with. And it wasn't until the 11th over of the day that Ashwin finally found success for the first time, getting rid of the steadfast Ben Stokes with a quicker one that fizzed off the surface.

Largely, this slowish track has been about uneven, variable bounce, yes. About occasional big turn. But as the match goes on, fizz and skid will become more pronounced. Ashwin will then be joined in the 'dangerous' stakes by Ravindra Jadeja, the master of accuracy and of keeping things simple. It should be fun – unless you are an English batsman.
Jonny Bairstow was one of the few English batsmen who played him with any degree of comfort in the first innings. "He bowled nicely today," the wicketkeeper admitted. "The accuracy he bowled with is a challenge. What every world-class spinner has is accuracy. That's the main asset. And his pace variations will be a challenge. We knew coming into it. In that first Test match, we played him nicely. We know going into the fourth innings that we can play Ashwin well." Knowing and doing are two entirely different things, of course, as several top batsmen including Kumar Sangakkara, AB de Villiers and Kane Williamson will testify.
Slideshow: 25 most controversial cricketers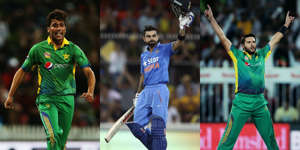 Ashwin sees himself as the leader, as the bowling captain, so to say, and Kohli has given him the confidence and the license to talk to the other bowlers, spinners and pacers alike. "The moment I walked into the Indian Test team, I haven't been worried about going and telling something I felt to any other bowler," Ashwin agreed, "I've shared my opinion with everybody. So that's not something new. And yes, I'm quite enjoying it."

One of the beneficiaries of his expertise is Jayant Yadav, the debutant offspinner who shares a more than ordinary bond with the man he calls Ash. "I first got to know him in 2014 through Eric Simons, that was very sweet of him to let me (practice with him for two weeks)… I think he was preparing for the England tour and it was very sweet of him to help me because at that time, I was just playing Ranji Trophy," Jayant revealed on Saturday. "Just to see how he prepares, if he could give me some inputs at that point of time, which he did, and we stayed in touch. We have a good rapport, we have a good friendship going on. He talks a lot of sense about bowling. It is all about learning, I feel.
"He didn't give a lot of technical inputs (in this match) but he told me about bowling different lines to different batsmen, be consistent all the times and where I was erring on the length. He told me a few things so that my length goes up."
After a period of finding his feet and receiving the odd slap on his wrist, Ashwin's graph has just gone up and up since the start of 2015. He is now the wicket-meister, simple as that.
Watch: When Shoaib bowled Sachin for a golden duck