Will Cook surpass Tendulkar?

Sky Sports
16-11-2016
© REUTERS
© Provided by BSkyB Getty
Sir Ian Botham says Alastair Cook could get close to matching Sachin Tendulkar's Test record of 51 centuries. But could the England skipper even surpass it?
Cook, 31, became the 13th player to pass the mark of 30 Test tons when he struck 130 in England's second innings of the first Test against India, his fifth hundred in India and the most by an any overseas batsman.
So, can Cook pass Tendulkar's record?
Cook has been playing Test cricket since 2006 so averages 12.36 Tests per year across his 11-year career. If you work out the similar ratio to his centuries, it's 2.72 centuries per year.
Taking that average into account, he will need another eight years to hit 22 more centuries in what could, using the figures above, be another 99 Tests.
However, it should not be forgotten that Cook has played in 134 consecutive Test matches since missing England's memorable victory in the third Test in Mumbai in 2006 with a stomach bug when India were skittled by Shaun Udal and Andrew Flintoff for just 100.
Or the fact that Tendulkar reached his 30th Test ton before the age of 30 and retired eleven years later aged 40 years and 206 days, having played in another 101 Tests, in which he hit 21 centuries.
Photos: 25 world records held by Indians in Test cricket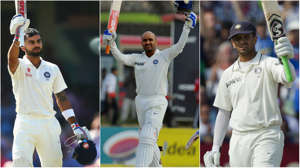 Or that The Little Master went 23 Tests at the back end of his career without hitting one after reaching his 51st and final Test hundred against South Africa at Cape Town in January 2011, playing on for another 34 months without registering three figures again.
Fitness is always the key. Cook, as mentioned, has survived without missing a game for over 10 years and his record of 134 Tests in a row is only bettered by Allan Border's 153 from 1979 to 1994 - that's 15 years uninterrupted.
But it also could be down to a desire to continue. The unflustered England captain has dropped a handful of comments over the last few months that his time could come to an end with form, energy levels and family the main consideration.
He showed that his desire is still there with his superb 130 in Rajkot to guide his side to safe waters and with teenager Haseeb Hameed looking as though he has all the credentials to become England's next high quality opening batsman, Cook might wish to stay and assist him in his progress.
There is always that fear of going on for too long. When former Australian captain Ricky Ponting announced his retirement, he stated that "it just feels like the right time to finish playing".
---
---
Ponting reached his 30th Test ton in Durban in 2006 but finished some six-and-a-half years later, having played another 66 Tests in which he collected another 11 centuries.

Cook doesn't turn 32 until Christmas Day, by which time he should have played another four Tests in this series, but the most centuries scored by a player aged 32 or over is Steve Waugh's 20.
And England's Alec Stewart holds the record for the most Test matches played at 32 years of age and older with 88.
Has Cook got it in him? If you consider the ICC's Future Tours Programme, England have 31 Tests between now and the World Cup in 2019 by which time he will be 34.
Ten Test players have played over 50 Tests aged 34 or more of which eight are front-line batsmen (only Bob Taylor and Courtney Walsh miss out), including his old Essex and England mentor Graham Gooch.
So, only time will tell but there is every chance Sir Ian might be right.
Watch: Virat Kohli's debut ODI innings