Wimbledon 2017: Andy Murray insists hip injury will not hinder him against livewire Dustin Brown

The Independent
05-07-2017
The limp when he walks was still evident as Andy Murray practised here on Tuesday, but the world No 1 insists that the hip injury which he has been dealing with for the last month is not a serious problem.
Murray, who will take on Dustin Brown in the second round here on Wednesday after disposing of another unpredictable opponent in Alexander Bublik in his opening match, spent 90 minutes on the practice court today. Although the Scot still seemed to be limping when he walked, the injury did not appear to impair his movement as he practised.
The sore hip is a problem Murray has had to deal with off and on for a number of years. It resurfaced after his semi-final defeat to Stan Wawrinka in last month's French Open and troubled him during his first-round defeat to Jordan Thompson in last week's Aegon Championships at Queen's Club. Last week it forced the world No 1 to take a rest from training and to pull out of two scheduled exhibition matches.
Complete coverage: Wimbledon 2017
"It's just something I have had to monitor my whole career," Murray said. "It's been really sore for a couple of weeks now and I needed to take a break. I needed to take a few days off.
"After the match with Wawrinka, I thought I was just a bit sore because it was such a long, tough match and I had not played many of those over the last couple of months. But then I didn't really get better.
"I was practising a lot on grass and preparing and getting ready for Queen's and my hip was gradually getting worse. Then I said: 'I need to stop this now because this is actually affecting the way I'm playing and it's affecting my practices.'
"I knew if I had to go on court like that I could not serve and hobble around and get through matches. I needed to get ready to play and that meant taking a break.
Photos: Tennis players — Then and now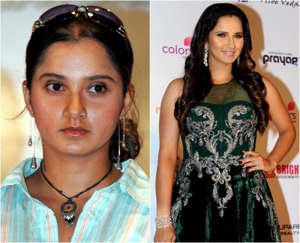 "It's something I've been dealing with since I was 22 or 23 years old, off and on. It's sore, but I get through it. It's not like a horrific injury in my knee. Just in time it's something I need to look after."
Murray said that he was doing some different exercises as part of his efforts to manage the injury. "It's probably about 20 minutes of extra stuff," Murray wrote in his column for the BBC. "That means two freezing cold dips a day - one at Wimbledon and one in my ice bath at home before bed.
"It might not be everyone's ideal preparation for a good night's sleep, but fortunately I've got used to plunging myself into ice-cold water over the years and I don't mind it."
In his latest training session Murray hit with 18-year-old Jay Clarke, one of a number of promising British youngsters who have practised with him recently, including Cameron Norrie and Aidan McHugh. Clarke also practised with Murray at the French Open.
"I enjoy it," Murray said. "I like to see the other British players doing well. If I can help them a little bit, too, then that's great."
Murray's second match is likely to be as entertaining as his first because Brown's tennis can be as eye-catching as his appearance. The dreadlocked world No 97, who has a Jamaican father and a German mother, plays serve-and-volley and loves to hit drop shots, dive volleys and outrageous slices.
Brown has never reached a final on the main tour but has claimed some significant scalps, most notably that of Rafael Nadal in the second round here two years ago and Lleyton Hewitt at the same stage two years earlier.
Murray became good friends with Brown when they played together in the same team in the International Premier Tennis League in Asia two years ago.
"We spent a bit of time together there and had a bit of a group chat with all of the players on the team," Murray said. "We all were basically writing to each other after that because everybody got on well. From time to time we message each other.
"It could be anything – not just tennis. You might think that because of the way he plays on court, maybe he is the same away from it. Bublik, for example, you would guess what he was like away from the court because of the way he plays the game.
"Dustin comes out with incredible shots and is very entertaining to watch and is pretty 'out there' on the court. But away from the court he is a very quiet, respectful and humble guy. He is very different to how he plays the game. We get on well and he is a nice guy."
Brown said it would be "an honour" to play Murray. Asked about the relevance of the result of their only previous meeting, when Murray beat him in straight sets at the 2010 US Open, Brown smiled. "Seven years ago and it wasn't grass," he said.
Asked what he thought about going into a match where he would not be the crowd favourite, Brown laughed again. "Who said I won't be? I think it's a pretty similar match to when I played Rafa out there. I try not to worry too much out there. I'm hoping no one is going to boo me. I will just go out and try and play my game.
"Either way he's the favourite. I can be pretty relaxed and try and play my game. If I lose in three sets no one is going to worry. I will just go out there and try my best."
Brown said he would have to go into the match with the same aggressive approach he adopted against Nadal two years ago. "That was a very good day at the office," he said. "Everything was working pretty well."
He added: "I want to play aggressive and go to the net. That's just how I play. That has nothing to do with trying to be exciting or flashy or any of that. That's my tennis. I have said it a million times: that's how I play, and if people like it, then obviously that's a nice thing, but that's not what I think about when I go out there."
Brown would like the courts and the balls here to be quicker. "Every surface has its own characteristics and Wimbledon and grass courts should be faster," he said. "I had the feeling even in the last couple of tournaments I played that sometimes playing at the French Open might even be a little faster just from the balls and the courts.
"That's a little sad, because personally I think a lot of guys that are attacking and playing serve-and-volley, like we've seen Feliciano Lopez or Gilles Muller over the last couple of weeks, they're doing it a lot less now because everything is playing pretty slow."
Brown said that made life particularly difficult against a player who can return serve as well as Murray. "I'm just going to have to try and find a way to be aggressive and try and not have him play the type of game he wants to play."