With Dravid, the virtues of less being more are always apparent

Wisden India
06-02-2017
Had all other things been equal, we would have by now had two Dr Dravids residing under the same roof in their gated community residence in Yamalur, just behind the old HAL Airport in Bangalore. Rahul Dravid, of course, lives by his own rules and values, so for the time being at least, there is little chance of Samit or young Anvay wondering which of their parents was being referred to when someone said Dr Dravid. After all, mom Vijeeta is a qualified, practising general surgeon.
It's been over a week since the news broke out that the former India captain had 'in all humility' declined to accept the honorary doctorate degree that Bangalore University sought to confer on him. Typically Dravid, of course. Should anyone who has followed his storied career be surprised? Not really. But should we be surprised that in this day and age, someone would actually do something like this? And follow it up by saying that he would rather earn the degree through academic research in the field of sports? Yes, most definitely.
Dravid didn't make a big deal of a gesture that has understandably come in for massive acclaim. Again, that is so characteristic of a man that has preferred the background, and assiduously attempted to train the spotlight away from him even at his peak as a batsman and captain. It wasn't merely the ball that Dravid would deflect deftly, adroitly. His mastery over nimble-footedly side-stepping what he deemed unnecessary attention would have done a ballerina proud.
But then again, Dravid hasn't ever had to make a big deal of anything. Over 16 years of sweat, toil and blood, he has left behind a legacy that will stand the test of time. He has always veered off the beaten path. Declaring the innings closed when the world's most celebrated cricketer was within one hit of making a second successive Test double. Giving up the captaincy weeks after leading India to a Test series win in England. Announcing his retirement from the international game with a bouquet of home Tests lined up. And opting for the less glamorous but more responsible task of grooming young talent by taking up the coaching assignments of the India A and India Under-19 teams while all the time insisting that at those levels, it wasn't so much the results as the identification of talent and honing of mind and social skills that was paramount.
Slideshow: Rahul Dravid — Life in pictures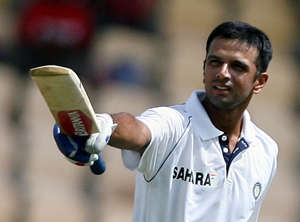 Dravid is one of those Indian cricketing legends that doesn't talk much, but when he does, he invariably commands the stage. As the man who is the most closely involved with the future bulwarks of Indian cricket, he has a ringside view of the talent pool that various selection panels can dip into, which is why it was fascinating to read about his revelation that very few have approached him for his opinion of the readiness or otherwise of the young guns under his charge, especially at the India Under-19 level.
"It's really interesting, a lot of times I tell people I have been in this job for close to 16-18 months, the only people actually called me up and asked me about their players are the Mumbai guys. Nobody else calls," Dravid said the other day. "You think that being a former India player and being a coach, a lot of associations may be wanting to call you and ask about their players, but I had only conversations with the Mumbai guys. Last year, they wanted to know a lot about Armaan (Jaffer) and Prithvi (Shaw) as well. So, I guess in a sense it tells you why Mumbai is so successful."
That's as much of an indictment from Dravid as is imaginable. Of course, a few of the Under-19 stars have already played senior representative cricket, but there are several uncut diamonds and unpolished gems that are the recipients of the Dravid wisdom who have yet to be dip their toes in the largely competitive pool. Perhaps, the Delhis and the Tamil Nadus and the Karnatakas, the traditional powerhouses, and the Gujarats, the Jharkhands and the Vidarbhas, the emerging forces, can take a leaf out of the Mumbai book? Their choice, of course, but think about it – if you had the opportunity to pick the complex and yet remarkably clear-headed Dravid brain, would you or would you not?
---
---
Which could then lead to what might appear a logical question. Why can't Dravid punch the numbers and speak to selectors of state associations if he is convinced one of his wards is ready to make the transition to the next phase? He can, of course, and maybe he has, too. But Dravid is the kind of person that might consider this unwarranted and interfering. He will be ready with his views and ideas and suggestions when asked for them, but he may also believe it won't be correct on his part to voluntarily disseminate advice when it hasn't been sought. Less, Dravid has always insisted, is more – especially when it comes to talk. 

It's not a sentiment several others seem to share, notable among them MSK Prasad, the chairman of the Indian senior selection panel.
Prasad is as intricately weaved into the cricketing thread as Dravid is, but without the stature that on-field accomplishments at the highest level bring with them. Until he became a part of the selection committee some 15 months back, he had been the CEO of the Andhra Cricket Association, a much eulogised figure for putting systems and infrastructure in place, and for taking the sport beyond the quasi-traditional centres.
Prasad is confident and well-spoken with a solid handle on things. His first few media interactions as the chief selector came as a breath of fresh air – not only was the chairman finally talking to the media, he was actually explaining the rationale behind a surprise exclusion, the thinking that catalysed a shock inclusion. For a group hitherto left to fend for itself, relying on sources to figure out if someone was rested or dropped or unavailable through injury, this was manna. In nothing else, there was no scope for speculation anymore. Kite-flying could be confined to roof-tops, not be indulged in in print.
But Prasad clearly doesn't subscribe to the 'less is more' philosophy that is Dravid's calling card. Before the team for the Bangladesh Test was selected, the former India stumper emphasised that Wriddhiman Saha was the first-choice wicketkeeper, no matter that Parthiv Patel did an outstanding job filling up for the last three England Tests when the Bengal man was out injured. No issues with that, Saha has done more than enough in the last two years to make the big gloves his own when free of injury. But to then go on and talk about Saha having 'better hands' than Parthiv isn't something behoving of a chief selector.
Nor is having a right royal go at an admittedly poor decision from the on-field umpire, like Eoin Morgan did after the Nagpur Twenty20 International. Poor decision or not, England had no business losing that game from the position that they were in. The England captain would have been better off introspecting than lashing out in public, a condemnation that essentially resulted in C Shamsuddin being stood down for the decisive T20I in Bangalore. Where Morgan and his team couldn't even hide behind 'poor decisions'.
I am not sure the International Cricket Council have covered themselves in glory in this episode. Clearly Andy Pycroft, the former Zimbabwe allrounder and the match referee in question, should have pulled up Morgan for breaching the ICC Code of Conduct by openly undermining the authority of an umpire. Five days on, that hasn't happened. Looks like both the ICC and Pycroft toe the Dravid line when it comes to less being more.