With senior players missing out, it will be tough to beat New Zealand in ODIs

India Today
15-10-2016
MS Dhoni is back at the helm of the Men in Blue as they take on New Zealand in the first ODI on Sunday in Dharamshala. The series gives India's limited overs skipper a chance to correct an uncharacteristic recent poor run of results. Since the 2015 World Cup, India have played four series under MS Dhoni and won only one against Zimbabwe. Defeats to Bangladesh, Australia away and South Africa at home have seen questions being raised on Dhoni's leadership, but he could end that debate by taking India back into the top 3 of the ODI rankings.
However it will not be a walk in the park. Half the senior team is on the sidelines, either injured or rested for this ODI series leaving Dhoni to depend on a few senior pros and a bunch of highly talented youngsters.
"In terms of competitiveness yes, you will miss a couple of seniors make no mistake about it. R Ashwin and Jadeja will be missed. You see over the last 10-15 years, whenever we have played at home you need about 25-28 overs of spin, that is what controls the game. So it is going to be a challenge for young spinners as well. Will they be able to hold their own in their own backyard? For people like Axar Patel and Jayant Yadav and specially Amit Mishra, if they can hold their own, that will also show how strong India's bench strength is," said former India cricketer Nikhil Chopra to India Today.
Ashwin and Jadeja were rested by the selectors for the ODI series with an eye on the marathon home Test season ahead. Mohammad Shami is also rested while fellow pacer Bhuvneshwar Kumar is out injured along with openers Shikhar Dhawan and KL Rahul. It remains to be seen with senior pros missing whether Dhoni bats up the order against the Kiwis.
Photos: Cricketers — Then and now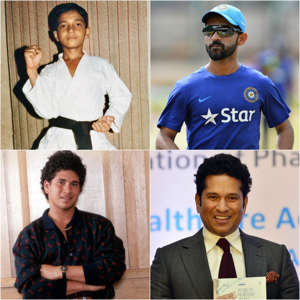 "We have been saying this for a long long time, we all feel with the talent that Mahi has got, there is no point in him coming way down the order in limited overs cricket. I understand what he tries to do in terms of controlling the game, he feels he can do the best job in the last 8-10 overs. But the point is if he bats up the order and faces 55-60 deliveries in his personal capacity then he will win you the game. He does not need anybody else coming down the order to control the game. Dhoni the batsman also needs runs under his belt," says Nikhil.
Sports historian Boria Majumdar too echoed Nikhil's views and said the focus of the series is solely on MSD. "MS Dhoni has not played since a couple of T20s in USA and will not play in the next five months, so leading into the Champions Trophy in the summer of 2016, this is a very important series as far as MS Dhoni the cricketer is concerned. There will be question marks raised if MSD does not perform as a captain and as a player so it is very important for Dhoni as a player to lead from the front. He has to do well as a captain and also as a finisher," said Boria.
India's last meeting with the Black Caps in limited overs cricket was not a happy occasion with the Kiwis handing a defeat to India in their opening match of the WT20 earlier this year at Nagpur. Still Nikhil believes this series will go India's way.
"I think a win over the Kiwis is likely. Mahi is coming back to lead the side, the team looks confident after the 3-0 victory in Test matches as well. You have got an opportunity for youngsters as well in terms of the spin department but with their recent showing in Australia where they represented India A against Australia A, the likes of Jayant Yadav, Axar Patel and others I am hopeful that these guys can go out there and do the job and hopefully Amit Mishra too will get a game," said Nikhil.
The first match of the five-ODI series will be played in Dharamsala on Sunday. India needs at least a 4-1 win in the series to leapfrog New Zealand and climb back into the top 3 of the ICC ODI rankings.
Watch: When Shoaib Akhtar bowled Sachin for a golden duck
More from India Today

India Today