Wonderkid Washington Sundar hitting the right notes

The Indian Express
18-05-2017
There is an indiscernible scar on Washington Sundar's temple, just above the right eye, that his father M Sundar figuratively opens and reopens. The story behind the scar, he recounts, is that a day before an inter-school final, Washington got struck on his head. But the next day, against the doctor's advice and father's concern, with four zig-zagging stitches on the deep cut, Washington struck a match-winning unbeaten 39. Sundar felt an intangible flutter in his head. To him, it was the first sign of his son's innate drive for the game.
'Washi', as his father calls him, was just eight and playing with and against boys three or four years older. This, then, was to be a recurring pattern of his career — he was only 12 when he was part of the Tamil Nadu U-15 squad, 14 when he made his first-division debut, 16 when he was pitchforked to the India U-19 World Cup squad, and 17 when he made his First-Class debut and then later spun Rising Pune Supergiant to the IPL final.
But through all these transitional jaunts, he has always looked the part, physically bigger and mentally stronger than his age, and vitally, soaking the swelling demands each elevation threw at him.
Photos: Most memorable moments of IPL 10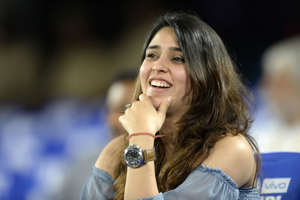 A bigger revelation of his potential, or blessing as his father frequently says, than the unbeaten 39 was his back-to-back hundreds in an U-12 tournament. "For a 10-year-old to bat out 30 overs and score consecutive hundreds shows a lot about his temperament and technique. It was then that I became fully convinced of his talent," observes Sundar, who was a first-division regular, a "bit-piece" by his own assessment, in the days of Krishnamachari Srikkanth and M Venkataramana.
"Technique" is a word Sundar emphasises, even over-emphasises. It's not surprising because he was a "huge" fan of Sunil Gavaskar. Just like his son is of MS Dhoni. But Sundar asserts he wasn't a pushy father, the sort of overzealous ex-cricketer who thrusts his unrequited dreams on his children. "I observed whether he had any interest in the game, and when I realised he had, I decided to be a taskmaster, a strict coach. For cricket is the only thing I knew and the only thing I could pass on to him. I was not living my dream through him. I was just helping him realise his dream," says Sundar.
That meant hopping to Sundar's academy in T Nagar from his residence at Pudupet before five in the morning and training for three hours before heading to school. Even the weekends were spent at the academy, and it didn't matter if the sun was gruelling, which generally is in Chennai, or benign. "The interesting part was that I don't remember a single day when I had to wake him up. He was always ready, standing next to my bike with the kitbag slung on the shoulders," the father remembers.
Watch: Pune storm into final
(Video provided by Wisden)
Invariably, the thread of their afternoon rigour, sometimes joined by his daughter M Shailaja, herself a state-level player, seldom drifted from batting. It was always about the feet-elbow sync, outside-the-off-stump judgment or the bat-swing. When he was tired of batting, he would start wicket-keeping. Bowling, largely, was an afterthought.
Then one hot afternoon, he rolled his arm over in a school game. Just like that, as in movie scripts, everything fell in place. "He wanted to be a batsman who kept wickets. But since his school team had an accomplished 'keeper, chances weren't coming. He was restless and desperate to chip in. So he began rolling his arm over," Sundar recollects. More importantly, Washington was amongst the wickets.
Then gradually, bowling, too, sneaked into their afternoon toil, although the priorities were still well defined. But the father and son realised that the accidental revelation wasn't to be overlooked, for a second skill was always handy, so much so that Washington made it a point to bowl regularly in school and first-division games.
Unlike his batting, which when he is in the mood makes for a thrilling watch, his bowling is unspectacular. With the bat, he often clears the long-off fence with a mere extension of his bat, but his bowling is prosaic, bereft of the niceties that make off-spin bowling a delectable art form. He hardly turns the ball, nor flights it. The drift is non-existent, so are the revolutions and variations. In plain-speak, he is just plain.
Such a bowler, invariably, can't afford to mess up with the lengths and lines. Washington ensures he doesn't. He hardly gives width, rarely bowls too short or too full, almost every delivery is pitched on off-stump or thereabouts in that in-between length, wherein a batsman is unsure whether to play forward or stand back. He is flat and unattractive, but stops runs and gets wickets, which surprises even his father and teammates.
Not only in T20s, even in Ranji matches he has proved to be an effective wicketkeeper. He was sparsely used in his first few Ranji matches, before he came in as the seventh bowler in Tamil Nadu's match against Madhya Pradesh and took three wickets in no time. In the second innings, he promptly came on as first change. The soul of his bowling is discipline and accuracy. One other trait, his father says, Washington possesses is courage. "He was nervous when he was picked by Pune. But once he started playing, he had no nerves. He felt normal, like it's just another match," Sundar says. Watching him stride in to bowl in the Powerplay against Mumbai Indians, even his parents didn't get nervous.
For them, the scar on his forehead is a gentle reassurance of their son's courage and potential.