Words that touch, words that move

Wisden India
13-11-2016
Words have the power to educate, inspire and lift hearts in the toughest of times. Although most cricketers prefer — and perhaps are better off — letting the bat and ball do the talking for them, a few have shown themselves to be equally capable behind a microphone.
Anil Kumble, who delivered the Dilip Sardesai Memorial Cricket Lecture on October 3, is one such player whose statesman-like qualities make him an ideal orator. Wisden India lists ten of the most memorable cricket speeches:
Rahul Dravid's Sir Donald Bradman Oration (2011)
"Let us not be so satisfied with the present, with deals and finances in hand that we get blindsided. Everything that has given cricket its power and influence in the world of sports has started from that fan in the stadium."
It should surprise no one that Dravid's speech at the Anzac Hall at the National War Memorial, Canberra was as meticulous as his approach when he stepped out to bat. He described in great detail how Indian cricketers were more than mascots of India's economic power, but also urged players and administrators alike to respect the fans.
Kumar Sangakkara's MCC Spirit of Cricket Lecture (2011)
"We have for the first time been a target of violence. We had survived. We all realized what some of our fellow Sri Lankans experienced every day for nearly 30 years. There was a new respect and awe for their courage and selflessness."
One of the most eloquent cricketers one can come across, Sangakkara, arguably, set the benchmark for speeches in cricket with his hour-long lecture at Lord's. Instead of choosing a conventional topic and mindlessly blathering on, he picked one that was dear to him: the story of Sri Lanka's cricket. He discussed the unifying impact of the 1996 World Cup, the humbling experience of helping the victims of the tsunami, the team's close shave with terrorists during the Lahore attack, and left everyone in deep thought long after he left the podium.
Sachin Tendulkar's farewell speech (2013)
"All my friends, settle down, let me talk. It's hard to believe my wonderful journey is coming to an end. My life between 22 yards for 24 years has come to an end."
There are many cricketers whose farewell speeches have tugged at heartstrings, but none more so than Tendulkar's. Fans openly bawled in the stands, former players dabbed their eyes in the commentary box, journalists didn't bother keeping their emotions in check. By the time the great man finished thanking everyone who was part of his journey, it was hard to say whether Tendulkar missed cricket more or the other way around.
Michael Clarke's Phillip Hughes eulogy (2014)
"I stood there at the wicket, I knelt down and touched the grass. I swear he was with me. Picking me up off my feet to check if I was OK. Telling me we just needed to dig in and get through to tea. Telling me off for that loose shot I played. Chatting about what movie we might watch that night. And then passing on a useless fact about cows."
For a long time, Australia's cricket-loving public and Australia's captain had been at loggerheads. Whether it was his designer clothes, fancy hair, or his model girlfriend, Clarke wasn't able to endear himself to the public the way Ricky Ponting, Steve Waugh and Allan Border had. But all that changed after the Phillip Hughes tragedy. Here was Clarke, at the heart of it all, mourning the loss of his 'little brother' and demonstrating what it meant to be a leader of men.
Martin Crowe's speech at New Zealand Cricket Awards (2015)
"I think the moment that I'll never forget is Grant (Elliott) reaching down to reach out to Dale Steyn – that gentle gladiator kind of look, not the Hairy Javelin that he is known for. He just epitomised the New Zealand spirit. We may not have won the Cup, but we won at the higher level, which is the spirit."
It's hard to say whether Crowe will make any more public appearances after this, since his lymphoma returned in September 2014. However, his words put New Zealand's journey to the final of the 2015 World Cup into perspective, stressing that cricket was not just about winning but playing with joy.
Desmond Tutu's MCC Spirit of Cricket Lecture (2008)
"For 20 years, as the sports boycott tightened and apartheid stopped generations of South African sportsmen and women, both white and black, realising their full potential, you and others like you drummed into us what the world saw as fair play and what it saw as unfair play."
As a man who spent a lifetime speaking out for truth and justice, Tutu offered a new outlook about what spirit of cricket meant, explaining the role the sporting boycott of South Africa played in ending apartheid. By the end, it was about more than simply the spirit of cricket; it was about the spirit of humanity.
Imran Khan's World Cup victory speech (1992)
"I feel very proud that at the twilight of my career, finally I've managed to win the World Cup."
As far as victory speeches go, it's one that generates quite a lot of raised eyebrows. Imran spoke about building a cancer hospital and achieving a personal goal, which is all fine, but what about the rest of the team? Still, it's one of the briefest speeches ever after winning a World Cup, so he gets points for not boring everyone to death.
Kim Hughes's resignation speech (1984)
"The constant speculation, criticism and innuendo by former players and sections of the media over the past 4–5 years have finally taken their toll."
Even more brief than Imran's speech was the speech from Hughes, announcing his resignation as captain of the Australian team at the post-match press conference on the second day of the second Test against West Indies. This, however, didn't do much for his reputation as his crying was deemed 'un-Australian' by sections of the media and he went from one of the much-loved players in the side to a laughing stock. A crying shame, indeed.
Stephen Fry's speech at Lord's (2009)
"In the forty-five years that I have followed cricket, I have seen it threatened from all sides by the horrors of modern life. The game has been an old-fashioned blushing maiden laid siege by coarse and vulgar suitors."
Comedian and cricket aficionado, Fry was his usual whimsical self at the Home of Cricket and definitely delivered an uplifting speech. Sure, there will be scandals, meltdowns, and other things that go bump in the night and threaten the sanctity of the game as we know it, but there are also new heroes and happily ever-afters to look forward to as well, he points out.
Wes Hall's speech at the West Indies Cricket Board/West Indies Players Association Awards (2015)
"Cricket is a game for thinkers. I have never seen a great cricketer that wasn't a great thinker. What I have seen though is great batsman and batsman who play occasional great innings. Likewise, I have seen great bowlers and bowlers who produce the occasional great spell."
One of the most fiery pace bowlers of all time, Sir Wes Hall once remarked, 'if you think my run up was long, you should hear my speeches.' And yes, this speech is on the long side at nearly 50 minutes, but it's one worth worth listening to, with generous doses of humour thrown in. The biggest lesson? "In the days of yesteryear, West Indies cricketers can never depend on playing for the West Indies to make a living." Take that as you will.
---
---
Slideshow: Rare photos of cricketers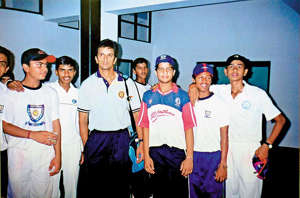 Watch: When Sachin made his first run in ODIs