World T20: Winners and losers from the tournament in India

The Independent
03-04-2016
After just over three weeks of thrilling action, the World T20 draws to a close this Sunday in Kolkata – England taking on the fearsome hitters of the West Indies, with both sides battling to become the first team to win the competition for the second time.
Darren Sammy's men saw off hosts, and pre-tournament favourites, India in their gripping semi-final, while Eoin Morgan's merry men made short work of the competition's form side New Zealand in one of England's best limited overs performances.
Elsewhere South Africa did nothing to shake off their underachievers tag, while Australia never managed to work out what their best team was, and Pakistan and Sri Lanka had tournaments to forget.
Bangladesh will be very disappointed with how things turned out and will rue some desperately poor decision-making, while Afghanistan leave with their first win over a major side and having firmly established themselves as the number one Associate side.
But who were the individual winners and losers of the competition? Here is your guide to the heroes and zeroes of the 2016 World T20.
Winners
Virat Kohli
While his deployment as a death bowler in the semi-final against the West Indies may have been pushing the generosity of the sporting gods just a little too far, elsewhere Kohli has had a tournament to remember. His five innings yielded 273 runs, including a stunning match-winning 82 not out in the winner takes all group game with Australia, and for a long time it seemed as if he might almost single-handedly wrestle a largely disappointing India all the way to the title.
Joe Root
Praise should also be handed to Jason Roy who has shone at the top of the order for England, but the star turn for the finalists has surely been Root. The babyfaced assassin has racked up 195 runs at an average of 48.75 and a mightily impressive strike rate of 145.52, including his superb 83 in the record run chase against South Africa which kickstarted England's run to the final.
Mohammad Shahzad
It seems impossible that anyone could dislike Afghanistan's wicketkeeper batsman, whose often agricultural, but mightily effective, bludgeoning at the top of the order lit up the tournament. His 19-ball rampage against South Africa, including five sixes, which yielded an improbable 44 runs, was one of the highlights of the tournament. Add in his unorthodox physique, flamboyant stumpings and verbal roughing up of Dale Steyn and you have all the makings of a genuine cult hero.
Mitchell Santner
Picked out by this correspondent as one to watch before the tournament began, the Kiwi left-arm spinner did not disappoint, impressing from the very start. He finished the competition with 10 wickets at an average of 11.40 and an impressively low economy rate of 6.27 – including the terrific 4/11 that upset the hosts India in their opening game.
Mustafizur Rahman
Injury may have ruled him out of Bangladesh's early games, but he more than made up for it in the three games he did play, picking up nine wickets against Australia, India and New Zealand, including 5/22 against the latter, and winning himself many admirers along the way.
Losers

AB De Villiers
While his 64 against Afghanistan at the batsman's paradise of the Wankhede Stadium rendered his final World T20 stats an air of respectability, in reality this was a disappointing tournament for the South African. With his side still uncertain where to bat him in the order, ABDV failed to produce the goods in his side's two crunch games against England and West Indies and his long and fruitless search for a trophy continues.
David Warner
He might have made his name as a T20 player, but the pugnacious Australian had a tournament to forget. Shunted around the order, he only managed to make double figures once in four innings, with 17 against Bangladesh and finished with just 38 runs at a strike rate of barely above 100, well below his career rate of 139.81.
Suresh Raina
What has happened to Suresh Raina? Formerly a reliable T20 presence for India, he has not enjoyed a good tournament, averaging just 10.25 including a golden duck against Pakistan and scores of 1 and 10 against New Zealand and Australia.
Ashton Agar
Poor old Ashton Agar, it's all been a bit harder on the international stage since that 98 on debut in the 2013 Ashes. Despite only being used sparingly as a bowler in the Big Bash, Agar was bizarrely thrown into a shark-infested deep end by Australia in the powerplay against New Zealand, conceding 18 runs off his first over. In the end it turned out to be his only over of the match and indeed the competition, as he was dropped from the side after the game.
Reece Topley
Things didn't really work out for the big left-armer who conceded 55 runs from 4.1 overs across England's opening two games and was replaced by Liam Plunkett for the remainder of the tournament. Never really looked threatening in Indian conditions and suffered from a lack of control.
The organisers
A final shout out in the losers column should go to the tournament organisers whose gross incompetence threatened to ruin what ultimately proved to be a fantastic tournament. However the disgraceful treatment of the Associate nations, as well as Bangladesh and Zimbabwe, who were effectively made to qualify for the tournament again during the shameful 'first round' of the competition, reflects very badly on the sport which seems determined to marginalise all but a select few. 

The shambolic ticketing arrangements, that led to the fairly inexcusable sight of largely empty stadiums in cricket-mad India, and the general mistreatment of fans, were another major black mark against the organisers who ultimately were fortunate that the quality of the tournament helped distract from their, at times, farcical efforts at running a major competition.
Slideshow: 25 most controversial cricketers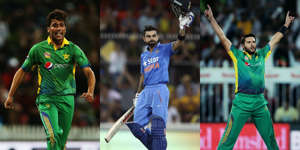 Watch: Final win would be 'huge', says Morgan