Yuvraj's father to Raina's nephew – family matters in cricket

Wisden India
17-04-2017
Most cricketers' family members like to stay behind the scenes, and with good reason. But some have become part of cricketing folklore, whether it was what they had in mind or not.

There are marvelous and meddlesome moms, dramatic dads and sacrificing sisters, and even a self-serving son-in-law.
Here, Wisden India presents a list of these family members we have had to deal with, happily or otherwise.
Gautam Gambhir's sister
"Desh bada ya behen" asked news channels after Gambhir decided to skip the third Test match against Sri Lanka in 2009 to attend his sister Ekta's wedding. Gautam was in the middle of a purple patch with his scores in his last four Tests reading 16 and 137, 23 and 167, 1 and 114, and 167.
Former cricketers also joined the din, questioning his priorities and suggesting that weddings should be done keeping the cricket schedule in mind. But Gambhir had no regrets, explaining, "Somewhere you have to draw the line and be there for the people who have sacrificed so much to let you play cricket."
Geoffrey Boycott's mum
England have produced several accomplished cricketers, but Jane Boycott surely ranks right there at the top. It has been said that she could plunder attacks with just a stick of rhubarb, putting to shame the modern-day batsman and his predisposition for ridiculously large-sized bats. She was also one of the world's premier slip fielders, who could catch things in her pinny, while being otherwise occupied.
Boycott's mum passed away from cancer in 1978 but, if she were still alive, she would have wanted to bat and bowl at both ends against Bangladesh, according to Sir Geoffrey. England definitely missed her services in the 2015 World Cup.
Yuvraj Singh's father
Yograj Singh put his son in a tough spot when he claimed that Yuvraj was not included in the 2015 World Cup squad because of a falling out with Mahendra Singh Dhoni.
Yuvraj doused the fire with the following tweet:
Like every parent my dad is also passionate and I am sure got carried away always enjoyed playing under Mahi n would do so in future

— yuvraj singh (@YUVSTRONG12) 16 February 2015
But Yograj was not done yet. A few months later, he added fuel to the fire again, comparing Dhoni to Ramayana's Ravana. He stated that he has never seen a person as terrible as Dhoni and that there would be a day when Dhoni would be left to beg and become penniless.
Yuvraj, once again, had to clean up after his father:
Iv got nothing to do with statements coming out in the media ! As iv said before enjoyed playing under dhoni no issues at all

— yuvraj singh (@YUVSTRONG12) 7 April 2015
Shane Warne's mother
Mothers mean well, but sometimes their meddlesomeness can land you in a real soup. Shane Warne learnt the hard way, after agreeing to take a diuretic pill in December 2002, suggested by his mother Bridgette, to get rid of his double chin. But the pill contained Moduretic, a banned drug that can be used as a masking agent for steroids by diluting traces of the substance in the urine.
On the eve of Australia's opening game of the 2003 World Cup, it was revealed that Warne had failed a routine drug test carried out in January and, after a tearful press conference proclaiming his innocence, the spinner returned home.
Warne and his mother offered their side of the story to a three-man committee in an Australian Cricket Board (later Cricket Australia) hearing, but they were unmoved. Warne received a 12-month ban from international cricket, costing him $Aus 3 million, but he decided to "take the decision of the committee on the chin".
Suresh Raina's nephew
When a tweet appeared on Raina's account, mocking Pakistan's semifinal exit at the World Twenty20 2012, Twitterverse had a field day. But the middle-order batsman deleted the offending tweet and explained the next day that it was not he but his dear nephew who did the dastardly deed.
Smart phones r dangerous. Discovered it last night after my nephew posted random tweets. I'm a sportsman and would never disrespect.

— Suresh Raina (@ImRaina) 5 October 2012
A national crisis was perhaps averted, but Raina became the butt of all jokes, with various parody accounts created shortly thereafter.
Ian Botham's mother-in-law

During a radio interview with BBC after a tour of Pakistan in 1984, Botham quipped, "Pakistan is the kind of place to send your mother-in-law for a month, all expenses paid". Needless to say, that went over like a pregnant pole-vaulter.
Years later, Daily Mirror decided to come good on Sir Ian's word and sent Jan Waller, his mother-in-law, to Pakistan on an all-expenses paid vacation. Unlike her son-in-law, she fell in love with the country and concluded: "All I would say is: 'Mothers-in-law of the world, unite and go to Pakistan. Because you'll love it'. Honestly!"
Virender Sehwag's mother
Meanwhile, Sehwag's mother was a lucky charm for him. Or at least that's what a 2003 advertisement suggested. In the commercial, a kid runs on to the field to hand Sehwag a phone, containing a message from his mother: "Viru beta, kar lo duniya mutthi mein". Parenting done right.
David Warner's brother
A few years before Warner decided to mend his ways, the opener was a walking, talking and tweeting train-wreck. He made headlines for punching England's Joe Root in a Birmingham bar at 2.30am during the 2013 Champions Trophy. He then was fined after an expletive-laden Twitter rant against two cricket journalists. But just when things were dying down, his brother Steven came up with an expletive-laden Twitter outburst of his own: "F***ing selfish Watson sooner your out if the side you great pretender the better".
Then, in another hilariously awkward tweet, Steven called Mickey Arthur an "escape goat" after he was axed as Australia's coach.
David apologised on his brother's behalf the next day, saying, "Like everyone, he is entitled to his opinions but I want to state categorically that I do not endorse his comments and fully support Shane (Watson) and all my team-mates."
What do they say about apples and where they fall from the tree?
N Srinivasan's son-in law
M Gurunath was another son-in-law who managed to make a bit of a mess but, unlike Botham, he couldn't live down the tale as he dragged several names in the mud with him, namely Srinivasan and Chennai Super Kings.
An investigation began into Gurunath's alleged involvement in spot fixing in the 2013 edition of the Indian Premier League. What followed was a strange sequence of events, starting with removing 'Team Principal, Chennai Super Kings' from Gurunath's Twitter bio to explaining that Gurunath was an 'enthusiast' and hoping that would be that. But it was far from over, and the franchise owners have paid a big price since then.
Grant Elliott's sister
Elliott, too, faced a similar quandary, but decided to give his sister Kate's wedding a miss as it was taking place on the eve of the 2015 World Cup final, which New Zealand had qualified for. Kate had booked the date six months in advance, and Elliott had given her his blessings, as, at that time, he was not in the selectors' radar.
But cricket isn't called a game of glorious uncertainties for nothing. Elliott became a national hero for leading New Zealand to their first-ever World Cup final with an unbeaten 84 against South Africa in a thrilling semifinal, and then had a tough choice to make. Nonetheless, he did find a rather novel way to make it up to his sister by paying for her honeymoon in the destination of her choice.
---
---
Photos: Most controversial statements by cricketers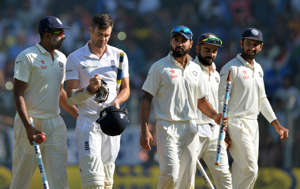 Watch: Pune hand misfiring Bangalore another loss at home
(Video provided by Wisden)