Yuvraj, Sehwag, Zaheer: Of grovelling, jelly beans and a retweet gone wrong

Wisden India
09-08-2017
There has been numerous instances in the gentleman's game when someone's mouth has operated a bit faster than their brain. Players, teams, and board presidents have all found out the hard way that sometimes it's best to keep opinions to themselves rather than broadcasting it to the entire world. If that's not possible, the cricket community would do well to steer clear of unwittingly offending Indian and West Indian players as poking the bear usually produces the best out of them. 

Wisden India looks at ten instances of banter and barbs gone wrong.
Andrew Flintoff v Yuvraj Singh
The seeds of IPL were sown after India's win in the inaugural World T20 in 2007, but the nation's fascination for the format can be traced further to a single over in a group game in Durban between India and England. Yuvraj Singh hit two fours against Andrew Flintoff and the score read 171 for 3 at the end of 18 overs. A heated exchange between the two followed, with Flintoff allegedly telling Yuvraj he would cut his throat off. Recalling the incident, Yuvraj said Flintoff told him, "Those were ____ ridiculous shots, because I had hit him for two boundaries in that over. I said _____ you. Then he said, excuse me. I said you heard what I said. And he said I will cut your throat off. I said you see this bat in my hand. You know where I gonna hit you with this bat?"
But it was Yuvraj who had the bat in his hand. In the next over, an angry Yuvraj hit Stuart Broad for six sixes to bring up the fastest T20 fifty in just 12 balls, laying the platform for a win as well as a T20 revolution in India.
Virender Sehwag v Bangladesh
"Bangladesh are an ordinary side. They can't beat India because they can't take 20 wickets." Press conferences are never boring when Virender Sehwag is in the hot seat, but his flippant remark ahead of a two-Test series against Bangaldesh in January 2010 left quite a few local journalists shocked. Mind you, the India opener wasn't looking to bait Bangladesh or trying his hand at mental disintegration; it was typical Sehwag fare. Jamie Siddons, the Bangladesh coach, though wasn't so amused. "His comments might bite him on his bum in a few years time. It might even hit him in the bum in a week's time. We are definitely not an ordinary side," came the reply. But nothing dramatic happened in a week's time as India wrapped up a 2-0 win.
Colin Graves v West Indies
There is no denying that West Indies, once a tour de force in cricket, are now a shadow of their glorious selves. Furthermore, the big names were halfway across the world playing in the 2015 Indian Premier League. But England seemed to have forgotten they were no position to judge, with off-field distractions of their own. "I'd certainly be disappointed if we don't win the West Indies series, because I am pretty sure the West Indies are going to have a mediocre team," said Graves, stoking the fires ahead of the three-Test series between the two nations which ended earlier this month. The consequences were two-fold: it motivated West Indies and put England under the pump. After levelling the series with a five-wicket win in Barbados, Jason Holder cheekily retorted that the result was not too bad for a 'mediocre' side.
Aamir Sohail v Venkatesh Prasad
An India v Pakistan contest always has an edge to it, more so when it's a World Cup game. The 1996 World Cup quarterfinal between the two sides in Bangalore was no different. Pakistan were chasing 288 and reached their hundred inside 15 overs, with Aamir Sohail looked quite comfortable against India's seamers. Sohail (55) then decided to gesture to Venkatesh Prasad after hitting a four through extra cover and found his offstump uprooted off the very next ball. It proved to be the turning point as Prasad picked up two more wickets, guiding India to a 39-run win.
Tony Greig v West Indies
The remark from Graves, however, couldn't hold a candle to the statement made by Tony Greig against West Indies in May 1976. Clive Lloyd's men had lost 1-5 to Australia and the England captain unwisely decided to have a go at them on the eve of the five-Test series. "I'm not really sure they're as good as everyone thinks," he said. "These guys, if they get on top they are magnificent cricketers. But if they're down, they grovel, and I intend, with the help of Closey [Brian Close] and a few others, to make them grovel." The words, coming from a white South African man, made the team and West Indians everywhere angry, with Viv Richards calling it "the greatest motivating speech the England captain could have given to any West Indian team". West Indies proceeded to blow England away with 3-0 victory, Greig famously sinking to his knees and grovelling to the largely Caribbean crowd on the fourth day at The Oval.
England v Zaheer Khan
Before the 2007 Test between England and India at Trent Bridge, no one had a clue that jelly beans could cause so much trouble. Certainly not England. The sugary confectionary mysteriously found its way on to the crease when Zaheer Khan came out to bat. Zaheer nudged them away but when a few more appeared, things went sour fast. Kevin Pietersen, England's favourite scapegoat, found himself dragged into the drama but, despite his protestations of innocence, Zaheer was not placated. "I didn't know exactly where they were coming from, and maybe I picked the wrong one, but they definitely came from a fielder and I just felt it was insulting," he said afterwards. Zaheer managed to extract sweet revenge the next morning as he snared five wickets to swing India to a seven-wicket win and a 1-0 series victory.
Andrew Caddick v Brian Lara
There are some people who manage to put their foot in their mouth so effortlessly that it would make a contortionist proud. Andrew Caddick is one such. Long before his assertion that Sachin Tendulkar was vulnerable at the top of the order in ODIs, the England fast bowler had gotten into a rather one-sided verbal joust with Brian Lara. Ahead of England's 1994 tour to the Caribbean, Caddick boldly proclaimed that he knew how to dismiss Lara. The West Indies batsman responded by scoring 798 runs at an average of 99.75 and surpassing Sir Garfield Sobers's world Test record score with his knock of 375 in Antigua. Caddick did dismiss Lara four times on the tour, but the 3-1 scoreline to West Indies would suggest that England would've much preferred he keep his mouth shut.
James Faulkner v West Indies
There was a bit of bad blood between Chris Gayle and Australia, but James Faulkner decided to kick it up a notch ahead of his side's World T20 clash with West Indies in March 2014. "I don't particularly like them," he declared brazenly. Tempers bubbled during the match, but eventually it boiled down to 12 runs needed off the final over from, who else but the man who ran his mouth – Faulkner. Two dot balls were followed by two thumping sixes from Darren Sammy as West Indies won by six wickets, with Gayle leading the Gangnam celebrations. Sammy couldn't help but muse afterwards that Faulkner may not like them much more now either.
Mushfiqur Rahim v India
When India decided to rest most of their marquee players, including Mahendra Singh Dhoni and Virat Kohli, for a three-match One-Day International series in June 2014, it was bound to disappoint many people in Bangladesh. Among those peeved was Mushfiqur Rahim. "I didn't expect them to take this series so lightly," he said. "And one should not forget that if they lose, India will lose, not India A. The pressure will be on them." Rahim's men, however, couldn't back up his words as the second-string side won 2-0, with one match washed out.
Dave Cameron v Chris Gayle
There wasn't a great deal of optimism ahead of West Indies' 2015 World Cup campaign, but Dave Cameron, the president of the West Indies Cricket Board, shocked the Twitterverse when he retweeted a disgruntled West Indies fan taking a dig at Chris Gayle. "Gayle goes … Can't buy a run. Let's give him a retirement package … Can't fail repeatedly and still front up based on reputation," said the tweet. Cameron later deleted the tweet but, by then, screenshots were taken and no doubt shown to Gayle. The opener, who had gone 19 ODI innings without a hundred, kept quiet. Two days later, he carved 215 off 147 balls against Zimbabwe in a group game, the fifth instance of a double century in ODIs, and grabbed two wickets to boot. While social media was unsurprisingly abuzz after the feat, Cameron feasted on some humble pie.
Slideshow: Most controversial statements by cricketers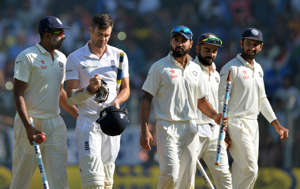 Watch: Best helicopter shots in cricket history