Yuvraj Singh accused of smoking weed, father Yograj rubbishes claims

India Today
03-11-2016
Popular reality show Big Boss 10 has courted yet another controversy through one of its recently evicted contestants. Akansha Sharma, who is the sister-in-law of Yuvraj Singh, has claimed in an interview that the superstar cricketer is a drug addict.
Akansha is the latest contestant to get evicted from the show, which is known for its controversial and often questionable content that it airs on national television. Akansha is the estranged wife of Yuvraj's younger brother Zoravar Singh. The couple no longer live together and Akansha is seeking a divorce.
In an interview with BollywoodLife, Akansha had said, "As far as substance abuse goes, it was there in their family too. Whatever I did was with them. I smoked pot with my husband. Yuvi also told me he smoked pot. It is a very common thing in the industry. My mother-in-law now needs to say something to justify herself."
However, Yuvraj's father Yograj Singh, who played one Test for India way back in 1981, has rubbished these allegations and said that his son is not a drug addict.
Photos: Know your cricketer — Yuvraj Singh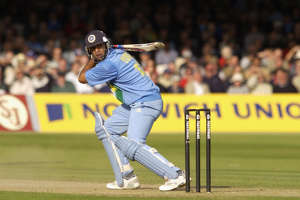 "What nonsense is she talking? This is all rubbish. I am a father of four children, and none of them is a drug addict. Yuvraj and all my other three children are like lions. They don't eat grass. Saying these allegations won't hamper Yuvraj's chance to stage a comeback," Yograj told mid-day in a telephonic interview.
"The lady, who is accusing Yuvraj, should put her own house in order before making any allegations. These claims will not hamper the chances of my son's comeback into the team," Yograj further added.
Yuvraj is a national hero and these recent allegations against the southpaw comes as a shock for his fans. His mother, Shabnam Singh, plans to file a defamation case against Akansha for 'stating false facts'.
"I am outraged and deeply hurt to hear what Akansha said in her interview with mid-day. For the longest time, we, as a family, have ignored her unnecessary assaults, giving her the benefit of being immature, and above all, being family. This benefit cannot be extended forever. Lawful action will be taken against Akansha," Shabnam said in a statement.
---
---
"Why do you think she got eliminated? It's not just because she wasn't playing the game well but it was due to the fact that she was discrediting Yuvraj, who is a national hero. Obviously, there was public outrage as his fans didn't like it and voted her out. Yuvi has got a huge fan following and who's she? She's merely hopping on Yuvi's fame and was lying all the time," she added. 

Yuvraj, who is trying his best to make a comeback into the national team, has been ignored once again by the BCCI selectors even after being the highest-scorer in the ongoing Ranji Trophy season so far. India's 15-member squad for the first two Tests of the five-match series against England was announced on Wednesday but the 34-year-old wasn't considered for selection. The Punjab captain recently smashed 260 in a match against Baroda and has scored 587 runs in 4 matches at an average of 83.85 with two centuries and a fifty.
Watch: Top 5 funniest cricket moments
More from India Today

India Today