Yuvraj Singh wants to play 2019 World Cup

India Today
02-09-2016
Nobody denies his talent. He is a treat to watch at his best. But the flamboyant Yuvraj Singh is yet again in a position of having to make another comeback. His return to the Indian T20 team after two years in early 2016 was seen as a mark of his revival, especially on the back of strong domestic performances. But after a lukewarm World T20 show at home, he was left out of the Indian T20 team for the USA matches vs West Indies.

Currently playing in the pink-ball version of the Duleep Trophy, Yuvraj says he is committed to making yet another comeback. Speaking to India Today, he said, "I have been training pretty hard in the off-season for whatever opportunities I get going forward. Obviously international cricket is why I am still playing. I want to come back and represent my country. Hopefully if that happens, whenever I want to hang my boots, if I can sustain for another 2-3 years I will be proud of myself. My target is to play the 2019 50-overs World Cup."
"If you have to be in the mix you have to perform to your best potential. If I can do that, I'm sure I'll have chances," he said.
'PINK-BALL CRICKET EXCITING'
Speaking on the experience of playing under lights with the pink ball, Yuvraj said, "Definitely it has been exciting. Something to look forward to in Test cricket. The shine of the ball doesn't go off, so it stays pretty much new. The pink ball is still to be tested in turning conditions, the wicket we are playing on right now has a lot of grass. And then let's see the outcome. But it is exciting to play under lights."
"T20 is what people love watching now. This is one way to engage people in Tests and to make it more enjoyable. If the format is enjoyable for the players and the fans, that could spell good days."
Slideshow: Know your cricketer - Yuvraj Singh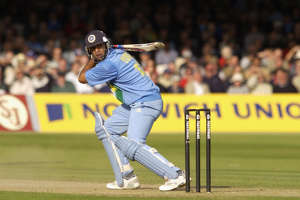 More from India Today

India Today