Zaheer Khan Hilariously Teases Yuvraj Singh. Twitter Loves It

NDTV
13-06-2017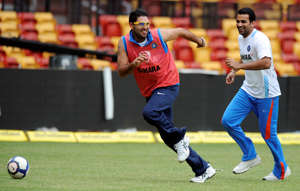 Monday's Pakistan vs Sri Lanka ICC Champions Trophy match was quite a thrilling one and most people were glued to their television screens to find out which team would progress to the semifinals of the series. Among those watching the game was cricketer Zaheer Khan who couldn't help but tweet about the match. Only, his tweet became more interesting when cricketer Yuvraj Singh noticed it and reacted to it. "Oh tu bade tweet kar reha aj kal ki gal ? (You're tweeting a lot these days?)" Yuvraj tweeted. However, even Yuvi probably didn't expect the reply Zaheer gave him.
Teasing Yuvraj about his fielding, Zaheer tweeted:
I am tweeting like you @YUVSTRONG12 but why are you fielding like me ??? Hahaha https://t.co/FaPx75Kn8Q

— zaheer khan (@ImZaheer) June 12, 2017
Oops! Didn't see that coming, Zaheer.
Here's how things had started. Zaheer had tweeted his thoughts on yesterday's match when Yuvraj tweeted him back.
62 needed of 90 with 3 wkts in hand , very interesting to see how it finishes from here ... #CT17 #SLvPAK

— zaheer khan (@ImZaheer) June 12, 2017
Since being posted some 15 hours before writing this, Zaheer's teasing tweet has collected over 10,000 'likes' and more than 2,300 retweets. Twitter seems to love the exchange.
Oh tu bade tweet kar reha aj kal ki gal ?

— yuvraj singh (@YUVSTRONG12) June 12, 2017
Wonder what Yuvraj Singh has to say to Zaheer Khan now. Guess we'll find out in the next match. India takes on Bangladesh in the semi-finals of the ICC Champions Trophy on June 15.
Here's wishing the team the best.
Complete coverage: ICC Champions Trophy
Photos: ICC Champions Trophy 2017 — Must see pictures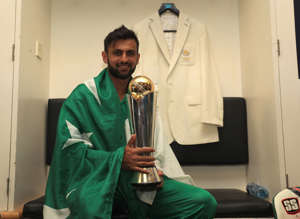 Watch: Kumble to be coach till Windies tour
(Video provided by Times of India)