CWG 2018: Coach Gopichand did not watch most of Saina-Sindhu final

India Today
15-04-2018
Saina Nehwal defeated PV Sindhu in straight games to win Gold in the women's singles badminton competition at the 21st Commonwealth Games in Gold Coast on Sunday. Saina displayed some superb form to clinch a 21-18, 23-21 victory in the final.

India's coach Pullela Gopichand was a proud man saying "India has won" after one of the best singles matches played in the competition.
"I only watched the end part of the second game. I thought Saina played smart. She stayed on. It was a close match and it could have gone either way. I think Gold for India, Silver for India.. nothing better than that. It shows both of them are playing really well and I hope both of them continue their performance for the rest of the year.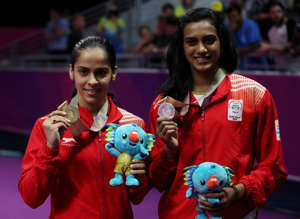 "I think overall, it has been a fantastic performance. I think the team Gold for me was the highlight of the event. Saina was fantastic but also Srikanth beating Lee Chong Wei. These were the highlights for me. But overall, every player played well and I think it was a fantastic tournament," Gopichand told India Today.
Saina was fired up and played with power and aggression to put Sindhu under pressure right from the start. Sindhu on the other hand, struggled to match her compatriot although she gave a stiff fight in the second game.
Sindhu struggled with her placements during the opening game, her best shot being a well-placed one into the left corner of Saina's side of the court at 9-12.
Saina had forced the lead right at the start of the first game and continued to increase the advantage at a steady pace.
Complete coverage: Commonwealth Games 2018
A superb drop shot gave Saina a 19-15 lead before Sindhu fought back to reduce the gap. But Sindhu's poor accuracy let her down once again as she fired an attempted return into the net to give Saina the first game.
The second game was a totally different story as Sindhu picked up the tempo. Saina had taken the early lead in the second game as well before she fired one wide to allow Sindhu to draw level at 4-4.
Sindhu took two back to back points to take a 6-4 lead before Saina reduced the gap with a deceptive smash that totally outfoxed her rival.
Sindhu however, continued to pick up the points and bolster her advantage despite excellent play by Saina.
Saina continued to fight hard, attempting to chip away at the deficit. Sindhu managed to hold on to the lead for a long time. But the constant pressure by Saina finally paid off when she drew level at 19-19.
A long rally saw Sindhu retake the lead at 20-19 before she hit one long as Saina drew level once again.
Another long rally followed by yet another long hit by Sindhu saw Saina reach game and match point at 21-20.
But Sindhu was not to be so easily defeated. She drew level once again with some excellent net play before Saina took the lead once again with a well placed smash.
Saina's patience and fighting spirit finally paid off as an under pressure Sindhu faltered at the net to hit one wide to hand her opponent the gold.
Photos: Hilarious faces from the Commonwealth Games
Check out most read stories of the day
More from India Today

India Today