Ostapenko wins French Open

Sky Sports
10-06-2017
Getty
© Provided by BSkyB
Unseeded Jelena Ostapenko brilliantly won the French Open on Saturday after an exciting display of attacking tennis against Simona Halep. 
The world No 47 won 4-6 6-4 6-3 to remarkably become the first player to win their maiden Tour title at a Grand Slam since Gustavo Kuerten did so in 1997 - the day of Ostapenko's birth.
Her victory completed a fairy-tale fortnight that included her 20th birthday and congratulatory call from Raimonds Vejonis, president of her native Latvia.
The incredibly powerful hitting that had been a staple of Ostapenko's run to the final was evident from the very first game. Against serve, she blasted four consecutive points in the blink of an eye to register a quick break and send out a warning to her more experienced rival.
Ostapenko's forehand was clocked at 75mph, faster than Andy Murray managed at any point during this French Open, but 23 unforced errors in the first set told their own story. Four of the first six games went against the serve, creating a 3-3 score-line, during a period where Ostapenko might have regretted not having built a lead.
Photos: Women's Grand Slam Winners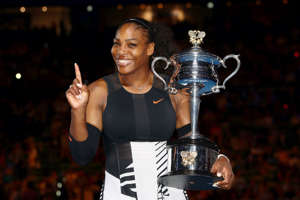 No 3 seed Halep defended her serve staunchly to take a 5-4 lead, a moment which felt important as Ostapenko's blistering assault threatened to waver. The youngster then conceded her own serve in the very next game to give Halep the first set.
Brilliant winners were exchanged in the first moments of the second set but the momentum had clearly shifted to Halep's favour, as she took a quick 3-0 lead.
Yet Ostapenko had resolve. She had previously won her quarter-final after trailing Elina Svitolina 3-6 1-5 and Halep was the latest victim of her determination.
Latvia's Ostapenko strung together four games, finding her targets with excellent winners time and time again, and she claimed the second set with a forehand that flew past Halep.
The concluding set was tit-for-tat but it was always Ostapenko striking the eye-catching shots, such as the back-hand half-volley that drew her level at 3-3.
Ostapenko's 50th winner of the match was another half-volley, helping her to a 5-3 lead, which she then converted against the serve by thumping Halep's delivery straight back past her.
Ostapenko's fearless tennis was underlined by 64 winners and 54 unforced errors, compared to Halep's eight and 10, respectively. The new champion's world ranking will improve from No 47 to No 12 on Monday.
The men's final will be contested between Rafael Nadal and Stan Wawrinka on Sunday.