10 things to do for free in Bangkok

Wanderlust
30-06-2015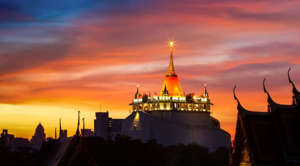 © Provided by Wanderlust Wat Saket (Shutterstock) How to see Bagkok's top spots without breaking the bank? Johnny Lawlor reveals the best things to do for free in Thailand's intoxicating capital
1. Stop and smell the flowers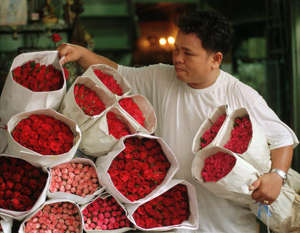 © Sakchai Lalit/AP Photo A vendor arranges bunches of fresh long stem roses at Bangkok's Pak Klong Talad market. Unleash your inner horticulturist at Pak Klong Talad, Bangkok's biggest flower market in the Old City. Wander around the beautifully vibrant stalls, or arrive pre-dawn between 3-4am to see the market truly come to life when exotic flower deliveries arrive from many regions across Thailand.
2. Watch boxing

Catch a free public muay thai boxing match outside the MBK Centre in the Siam district (Wednesdays, 6pm).
3. Sweat it out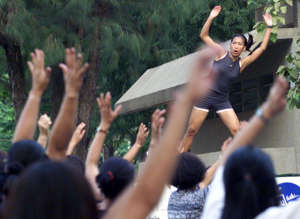 © Jason Reed/REUTERS Thai fitness fanatics follow the moves of an aerobics instructor in Bangkok's Lumpini Park. Join the masses in any green space in the city at 5pm for a guided aerobics session. No need to feel self conscious – all ages and dance abilities welcome! You're guaranteed to sweat though. Lumpini Park hosts one of the larger workouts; afterwards, catch your breath by strolling along the lake, looking out for turtles and large lizards.
4. Seek peace
Find a moment of serenity in the heart of the bustling commercial district: Erawan Shrine is a Hindu sanctuary, blanketed in flower offerings and mosaics, and conveniently located near some of Bangkok's most lavish plazas. Watch a traditional dance, balance your karma, and then get back to shopping.
5. Be at one with nature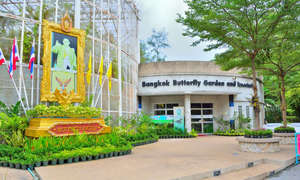 © Provided by Wanderlust Butterfly Garden and Insectarium (Shutterstock). Head over to the beautiful Butterfly Garden and Insectarium in Vachira Benchatat Park to be surrounded by a garden filled with thousands of varieties of butterflies and bugs. Entrance, and exhibitions about the lives and habitats of various insects, is free everyday! 
6. Indulge in Thai delicacies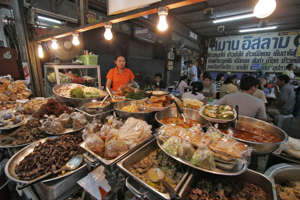 © David Longstreath/AP Photo A food vendor waits for customers at Bangkok's Chatuchak Weekend Market. Shop 'til you drop (or simply browse) at Chatuchak Weekend Market, which sells everything you never knew you wanted. Amble around the stalls of antique tea-ware and exotic pets before trying the street food. Or head to the adjacent Chatuchak Park, to have a picnic next to the pond.
7. Meditate with monks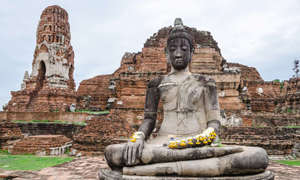 © Provided by Wanderlust Wat Maha That (Shutterstock). Soothe your mind, body and soul with a spot of meditation at one of Bangkok's only working wats. Wat Maha That is one of the oldest temples in the city and provides a great chance to engage with monks studying at the Buddhist university. Section 5 of the wat conducts three daily vipassana (insight) sessions; if you're lucky, you might have your future foretold too.
8. Water-window shop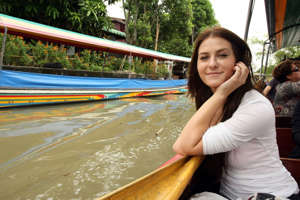 © Kristian Dowling/Getty Images American actress Scout Taylor Compton visits the Taling Chan Floating Market during the Bangkok International Film Festival 2009 on Sept 26, 2009 in Bangkok, Thailand. Stroll along the waterways of Taling Chan floating market, browsing treats stacked high on the long boats. Try a range of Thai fruits including custard apples, yellow longan and the pungent durian.
9. Climb Wat Saket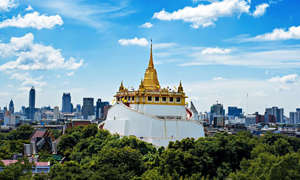 © Provided by Wanderlust Wat Saket (Shutterstock). Ascend the 318 steps to this sacred spot. The path winds up through tropical plants, past waterfalls and via bronze prayer-bells before reaching the gold-embellished temple: from here, 58m up, you get great views of much of Bangkok.
10. Get cultured
Head to South-East Asia's second-largest shopping complex, CentralWorld, and stay outside the mall to glimpse one of the regular public exhibitions, which range from motorbike displays to handmade craft shows.