17 world heritage wonders in South-East Asia

Wanderlust
29-09-2016
Packed with wild parks, natural wonders and ancient temples – it is amazing that South-East Asia has so few (just 37) UNESCO World Heritage Sites. We pick our favourites, plus some must-see sights yet to gain recognition.

1. Halong Bay
Lying prostrate aboard an old wooden junker, peering out across the emerald waters as jungle-covered precipices rear out of nowhere isn't the only way to experience Cat Ba Island's Halong Bay – it remains among the best, though. These limestone karst pillars aren't unique to Vietnam, but nowhere on Earth is their scale so dramatic, sprouting some 1,600 spines from the waters of the Gulf of Tonkin, birthing towering islands and islets out of bounds to all but the native seabirds that have made them home.

The site was first inscribed by UNESCO in 1994. Twenty-something years later, little has changed except how to see them and the increasing numbers of those who have. The slow-screw of erosion has notched hidden caves and dramatic arches into many of its rises. Kayak out for a more intimate look at the likes of Thien Cung, famed for its impressive stalagmites and stalactites; or drift past oysters farms and floating villages – ramshackle constructions linked by trembling walkways – to seek out secret beaches away from the boat-going hordes. 
2. Singapore Botanic Gardens
© Provided by Wanderlust Singapore Botanic Gardens (Dreamstime)
Despite its reputation as a 'Garden City', urban Singapore isn't the first place that springs to mind when you think rare flora. Which makes swapping its hotbox streets and hawker malls for the cool, bucolic quiet of its 157-year-old Singapore Botanic Gardens one of the city's great pleasures. 

Inscribed in 2015, it was just the third botanic garden to be listed by UNESCO (after Kew and Italy's Padua). The site also has roots deep in Singapore's colonial past, and once nurtured the seeds that would go on to form the great 19th-century rubber plantations of Malaysia, shaping whole swathes of South-East Asia. These days, though, it's the early-rising, free-to-enter green lung of the city.
Perambulate the grounds north to south, passing red-faced joggers and limber tai chi students, and cover 2.5km of primary rainforest and parkland. Spot sea eagles, waders and Malayan giant frogs, then strain up the hill to the National Orchid Garden: a sweeping enclosure containing some 60,000 plants. Keep your nostrils primed for its Papilionanda Mimi Palmer orchid – it smells a bit like chocolate. 
3. Luang Prabang
Pitched snug in a valley at the confluence of the Nam Khan and Mekong rivers and enfolded by lush mountains, Laos' UNESCO-listed city of Luang Prabang has a setting to melt any cynic. It was once the country's capital, long before its monarchy drifted into obsolescence and was forced to accept French protection in the late 19th century. The legacy of that deal is the crumbling colonial architecture that plugs the gaps between red-and-gold-roofed temples and lends the city much of its fin-de-siècle charm. 

This fusion of cultures is everywhere, from the mingling of fresh coffee and frangipani in the morning air to the sight of saffron-robed monks floating past faded European-style facades. The pace of life rarely rises above gentle, taking its cue from the slow boats that drift into port. Follow their lead and meander through the colourful morning market before taking a ride out to the turquoise-blue cascades and pools of Tad Se, or drifting downriver to the Pak Ou Buddha Caves. Finish atop Phou Si (Sacred Hill) at sunset, gazing up at the burnt orange sky reflected in the golden stupa at its summit. 
4. Gunung Mulu National Park
There isn't exactly a shortage of national parks on Borneo, but the 528 sq km of old-growth rainforest trails, bottomless caverns and towering karst peaks that scatter Gunung Mulu makes this South-East Asia's most diverse. 

UNESCO recognised the park in 2000, citing its incredible wildlife and landscape. The two combine in a gruelling hike up namesake Mount Mulu (2,376m) – a route first discovered by a Berawan tribe rhino-hunter in the 1920s. Spot playful gibbons and far less extrovert sun bears before clouds smother your vision. To the northwest lies Mount Api (1,170m), the largest piece of limestone in the Far East. From the ground, its shard-like pinnacles of karst strike out at the heavens, taking three days to trek.
But the park's show-stealer is its 295km of surveyed caves. You can smell Deer Cave long before you complete the 3km trek to its mouth, but it's worth a few nostrils of guano to stand in its main chamber – large enough to fit St Paul's Cathedral. Stay late to see its population of 3 million bats pour out at sunset, spreading like black ink across a blotting-paper sky. 
5. Sukhothai and Associated Historic Towns
As the capital of the original Kingdom of Siam, it was Sukhothai that kickstarted Thailand's Golden Age 750 years ago, when Theravada Buddhism first swept the land. It shone just a few centuries, though, before the rival Kingdom of Ayutthaya chipped away its power; jungle claimed the rest. 

Today, the far less influential New Sukhothai greets visitors, acting as a base to explore the 70 sq km of its Old City (Sukhothai Historic Park). Bicycle is the best way to get around – pedal over to largest-surviving temple Wat Mahathat; the long-eared, thin-faced Buddha at its centre is typical of the era. Elsewhere, Wat Sra Si is still partly inhabited by monks and every November its lake fills with thousands of floating candles as part of Loy Krathong. Watch their pinprick lights glimmer across the inky-black water and bid farewell to your worries.
Outside of the walled city, you will need a taxi to visit the nearby ruins of Kamphaeng Phet, formerly a military outpost, and Si Satchanalai, the centre of the old kingdom's prodigious ceramics industry. Neither can match the Old City for grandeur, but tend to be a lot more peaceful. 
6. Pyu Ancient Cities
In 1996, Burma nominated eight sites for UNESCO inscription, and for nearly two decades struck out. Bagan is a prime example: popular with visitors, but accusations of temples being rebuilt dogged its reputation. Today, the political landscape is very different. UNESCO are now working in-country to help preserve sites like Bagan, and in 2014 the partly excavated cities of the ancient Pyu people became the first area of Burma to achieve World Heritage status. 

Having said that, it's not the most glamorous. Few visitors would swap cruising Burma's Lake Inle for traipsing the dusty, rural Irrawaddy Basin. All of which is a shame because the ancient cities of Halin, Beikthano and Sri Ksetra contain some of the earliest surviving examples of Buddhism in South-East Asia, and tracking down brickwork stupas poking out from the scrub can be a thrill. The city of Halin (said to have influenced the ancient Siamese capital of Sukhothai) is the most accessible site. Parts of its original city wall have been uncovered, as have plenty of graves with their unearthed weapons and ornaments on display. You will need a knowledgeable guide (with wheels), though, if you're to come away with more than just 'ruin shots'. 
7. Hoi An
Far removed from the fogs of exhaust that envelop many a visit to South-East Asia, UNESCO-listed Hoi An is a quiet, sculpted riposte to the pace of modern Vietnamese life. It wasn't always the case, though. The city was once a thriving port town and home to merchants from across Asia until the Thu Bon River silted up some 200 years ago and the traders moved on elsewhere. 

Reminders of Hoi An's multi-cultural past abound in its French-style buildings, Chinese Quarter and dainty Japanese-style covered bridge. The Chinese infl uence is particularly visible in the city's assembly halls, each built according to the home province of its settlers. Wander their cool interiors before spilling out onto Tran Phu, the city's oldest commercial street. Lined with traditional wooden-fronted stores, during the monthly Full Moon Festival the glow of lanterns bathes their frontages a hazy, atmospheric red.
Traffic is banned from the centre, affording the chance to gaze undisturbed at the faded pastel facades, colonnaded balconies, cafés, markets, tailors and boutiques that cluster the Old Town. All is peace, but for the ringing of temple bells and the clatter of visitors' feet. It's hardly a hidden escape, but it's no wonder Hoi An scooped 'Best City' at this year's Wanderlust Readers' Travel Awards. 
8. Temple of Preah Vihear 
High up in the Dangrek Mountains, perched on a cliff-edge that drops some 500m to the unforgiving jungle below lies the notorious Temple of Preah Vihear. Getting there usually requires a bumpy road trip from Siem Reap, but few dared until recently, thanks to a centurylong border dispute. 

The temple has conflict in its bones – it was built in the 11th century in honour of the Hindu goddess Shiva, to mark victory by the Khmer over the invading Chams. But, more recently, it has been at the centre of a fierce land row between Cambodia and Thailand, which in 2008 erupted in conflict when UNESCO declared it a World Heritage Site.
The curious weren't deterred, though, and the ruins have seen a steady trickle of (mostly local) visitors since the last spatter of gunfire in 2011. Now tensions have died down – enough for the UK's Foreign Office to lift its travel ban late last year – expect numbers to rise. In some ways it's a shame; the ruins are a welcome antidote to the crowds at compatriot Angkor, and its crumbling gopura towers feel a world apart from the troubles that surround them. 
9. Komodo National Park
There's something unmistakably primordial about the way a Komodo dragon moves: haunches low, skin concertinaed about its limbs, bacteria-ridden saliva pouring from its mouth – enough to fell a beast three times its size. It all adds to the fearsome reputation of a creature found on only five Indonesian islands, two of which (Komodo and Rinca) lie within the idyllic UNESCO site of Komodo National Park. 

Guided treks bring the world's largest land lizard up close. The 5.5km hike from Komodo's port Loh Liang to Poreng Valley affords the best chance of spotting one away from the crowds. Stay overnight to get ahead of the hordes and to make time for a trek up Mount Ara, with its panoramic views and a chance to spy cockatoos and strutting megapodes along the way.
Not all the attractions are on land. Cruising and snorkelling the surrounding area brings you face-to-face with playful dolphins and curious dugongs. Bag a good spot on the water around sunset time, just as the flying foxes set out in search of food, blanketing the sky as they languidly glide between islands. 
10. Phong Nha-Ke Bang National Park
Despite boasting 885 sq km of untamed evergreen jungle and some of the oldest karst peaks in Asia, neither is surprisingly the main draw at Phong Nha-Ke Bang National Park. That privilege goes to the stunning caves and underground rivers that vein the land beneath. 
The park was recognised by UNESCO long before Hang Son Doong, a 5km-long cavern so big you could fit a skyscaper inside, was named the world's largest cave. That was opened to visitors in 2013, although guided trips into its gaping limestone maw are still in their infancy. More caves are being found all the time, and only last year the glistening underground stalagmite field of newly discovered Hang Va became the latest to receive tours.
Far easier to get to is Paradise Cave, with buggies shepherding crowds from the nearby village of Son Trach – a good base for visiting the park. Inside, enormous stalactites bear down from a ceiling that extends for 31km, but go early to beat the crowds. Alternatively, head to the Dark Cave, which requires a kayak trip upriver. Once inside, slip into its mud pool before cleaning off with a swim in an underground lake. 
11. Tubbataha Reefs Natural Park
Tubbataha Reefs Natural Park is easily overlooked, even by those who should know better – the US Navy and Greenpeace have both grounded ships here in the past. Its reefs lie far off the coast of Puerto Princesa in the Sulu Sea, and visits are limited to between March and June. Even then, the only way to reach the park is via a 'liveaboard' – multi-day boat hires that depart in the evening, arriving as the dawn sun blossoms across the reef's limpid waters. 

Just a handful of operators run trips, and in many ways it's a blessing. Despite UNESCO recognition in 1993, the park remains largely off the radar – though its reputation is growing. During peak months, the horizon barely ripples with small vessels as you inherit 1,300 sq km of crystal-blue water and atoll reef to yourself.
Divers will get the most from the trip, though the reef's waters are crystal clear and shallow enough in parts for good snorkelling. Key sites include the ominous-sounding 'Shark Airport', where endangered hawksbill and green turtles roam free in the shallows. Also worth checking out is 'Wall Street', where the lucky few can spot not waterlogged city boys but rare hump-headed Napoleon Wrasse and even the odd whale shark.
12. Rice Terraces of the Philippine Cordilleras
There are few better symbols of patience than the rice terraces of the Philippine Cordilleras. For over 2,000 years farmers have sculpted the paddies of Ifugao Province to the lee of the mountains, contouring them cloudwards (at a height of over 1,000m in places) and carving each shelf by hand in history's greatest ever feat of slow-engineering. 

Spanning five areas (Nagacadan, Hungduan, Mayoyao, Bangaan and Batad), the UNESCO site is unique in that the terraces have to be free to change and evolve to the needs of its people. But as more young Ifugao head to the cities, it is increasingly a way of life under threat.
Walking is the best, and in most cases only, way to see the terraces. Treks around the amphitheatre-like stone-walled terraces of Batad are stunning. A further hike on to Bangaan, past the traditional stilt houses of an Ifugao village, rewards with remarkable views of its carved hills, giving them the appearance of a giant green fingerprint rising from the landscape. 
13. Kinabalu National Park 
Kinabalu is that rare thing in Borneo: a national park better known for its flora than its fauna. You'd be hard-pressed to spot its elusive resident orangutans or tarsiers; much easier to see are the park's 5,000 varieties of vascular plant, from the gigantic, insect-devouring nepenthes rajah to the ultra-rare Rothschild slipper orchid – best seen in bloom around late April. 

No prizes go to the first one to spy the largest mountain in South-East Asia. The towering granite peak of Gunung Kinabalu (4,095m) dominates the 750 sq km of rainforest carpeting the valley below. You'll need to bag permits and on-site accommodation to make the tough 8.5km trek to its summit; along the way look out for the 1,800m-deep Low's Gully, home to one of the highest via ferrata in the world.
The gully splits the summit and originally led explorers to wrongly conclude that Kinabalu was a volcano. It is in fact a giant plug of molten rock that pushed its way to the surface and is slowly growing at a rate of 5mm per year. So, every time you reach the summit, you've climbed slightly higher than anyone else before you. 
14. Tropical rainforest heritage of Sumatra
The 25,000 sq km of dense rainforest blanketing the island of Sumatra is the only UNESCO site in South-East Asia to make the endangered list. Encroaching loggers and poachers threaten an eco-system already hit hard, and many predict that, given its rate of decline, most of its rainforest will disappear over the next 20 years. 

Despite conservation efforts, many native species are critically endangered, with the number of wild Sumatran tigers now below 400 and native wooly-haired rhinos counting fewer than 100. If the stats don't shock you, the sheer beauty of the area will. The site spreads across three national parks (Gunung Leuser, Kerinci Seblat and Bukit Barisan Selatan) and its borders encompass wild, thrumming rainforest, towering volcanoes (Mount Kerinci), high-altitude lakes (Lake Gunung Tujuh) and crashing waterfalls.

Getting around can be tricky, with permits and guides required to visit many of the more remote parts, such as Kerinci Seblat's southern areas, but most tour operators can oblige. A good base is Bukit Lawang (in Gunung Leuser); it has plenty of treks and the priceless opportunity to see the Sumatran orangutan roam the semi-wild. 
15. Angkor
Cambodia's 12th-century Khmer city of Angkor may contain some 300-plus temples, but the surging crowds that wash over it from dawn to dusk can make it seem a lot smaller. However, with a bit of planning, you can dodge the throng. 

Sunrise Angkor visits (it opens from 5am) are nothing new. The west side is particularly packed at this time, so enter through the East Gate and set up there – the view is just as good. However, be sure to stick around for the few hours after sunrise, as many of the tours will head off for breakfast, leaving you free to explore.
Come midday, the sun is at its hottest and the sensible are heading indoors for lunch or to cool down, making a midday assault on the always busy 'Big Three' (Angkor Wat, Bayon and Ta Prohm) worth your time, as all will be less packed. If you have a guide, be sure to tip them extra for ruining their lunch hour, though.
A number of the smaller temples also offer passing impersonations of their larger cousins. Banteay Samre (east of East Baray), for example, resembles a rather petit, intricately carved version of Angkor Wat, having been built around the same time. Similarly, Ta Nai (north of Ta Keo) is in a similar vein to the more famous Ta Prohm, it's stonework snaked with twisting roots in places. Don't substitute them for the real thing, but when the crowds get too much, they make for a peaceful retreat.
As evening draws in, the steep climb up Ta Keo (east of the Victory Gate) is a good alternative to the usually packed sunset-gazing spot of Phnom Bakeng. Alternatively, if you have a few days to spare, use these busy hours, when everyone else is jostling for elevation, to hire a tuk-tuk and head off in search of some of the smaller sites – you might well get them entirely to yourself.
Finally, avoid everyone at Angkor Panorama Museum (at the crossroads of Road 60 and Apsara Road). This US$24 million North Korea-owned-and-run museum contains giant, sweeping paintings and 3D murals depicting Angkor's heyday. But the museum opened at the turn of the year and crowds have reportedly been sparse – surely the Glorious Leader can't have got it wrong?  
16. Borobudur temple compounds
Hemmed in by volcanoes, paddies and limestone cliffs, the setting for Central Java's 8th-century Borobudur temple has drama to match its history. The hilltop site has weathered volcanic eruptions, subsidence and even a terrorist bombing, but remains the largest Buddhist temple on Earth – built from around two million blocks of lava rock. 

Not much is recorded of its early life. The site was abandoned some time in the 14th century, coinciding with Islam's emergence on the island. It lay hidden under volcanic ash until being rediscovered in 1815, although little was done to restore the temple until the 1970s, when UNESCO helped take it apart block-by-block to stabilise the waterlogged hill beneath.
Today, many of its 72 stupas, 504 Buddha statues and 2,500 sq m of reliefs remain intact, though negotiating the crowds to see them can be tricky. Sunrise tours to climb its goldenorange bathed steps are a good compromise. Stick around a few days, though, to explore the area's villages and temples – Borobudur was just one link in a 4km-long chain of Buddhist sites. Mendut Temple especially is worth a visit for its magnificent 3m-high Buddha, while open meditation and chanting sessions are held in its adjoining monastery. 
17. Thungyai-Huai Kha Khaeng wildlife sanctuaries
Most visitors to Thailand in search of tigers up close head to Khao Yai National Park (also UNESCO listed). For something less crowded, go west to Uthai Thani Province. Here, spread along the Thai-Burmese border, lies the twin wildlife sanctuaries of Thungyai and Huai Kha Khaeng – a far less polished vision of nature. 

The sanctuary is part of the largest protected area in South-East Asia, and up until its UNESCO inscription in 1991 it was strictly for research purposes. Facilities haven't developed much since. Only three areas are open to the public – all on the Huai Kha Khaeng side – but you can camp overnight by the ranger station if you book in advance. Hearing elephants stomping around at night always brings shivers.
A trail runs north and south of the creek around the station, and a 6km hike along jungle paths can be done sans guide. The only herd of water buffalo in Thailand roams to the south of the sanctuary, with plenty of deer, some stunning birdlife (including the rufous-necked hornbill) and a couple of watchtowers in between. As ever, spotting one of the park's 200 tigers requires big doses of luck, but leopards have been sighted with regularity. 
In pics: Tourist attractions discovered by accident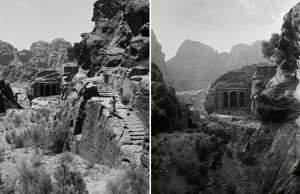 Also watch