5 lesser known urban legends that remained unresolved!

HolidayIQ.com
28-09-2016
India is the land of mysteries, ghosts, folklores, magic and legends. For decades now, our country has captivated the imagination of everyone, from the old to the young, with these sudden bursts of the unknown and unresolved stories that are beyond ordinary. We have some such stories for you.
1. The inexplicable boom in the sky over Jodhpur
On a lovely morning of December 18, 2012, exactly at 11:25 AM, people of Jodhpur heard a deafening boom that appeared out of nowhere in the sky. According to scientists, the boom was unlike anything else ever heard before, but the mystery of the Jodhpur Boom remains unexplained. 
2. The mysterious '9 Unknown Men'
This concerns the Nine Unknown Men, a secret society founded by the Mauryan Emperor Ashoka around 270 BC to preserve and develop knowledge that would be dangerous to humanity if it fell into the wrong hands. The nine unknown men were entrusted with guarding nine books of secret knowledge.
3. The Taj Mahal conspiracy
According to Professor P.N. Oak, the Taj Mahal used to be a Shiva temple by the name of Tejo Mahalaya, which was later captured by the Mughal emperor and converted into the mausoleum we all know and love. Does not sound so endearing now right! 
4. Kuldhara, the cursed village of Rajasthan
Established around the 13th century, Kuldhara was once a prosperous village inhabited by Paliwal Brahmins. It was abandoned by 19th century for unknown reasons, possibly due to dwindling water supply or because of persecution by the Jaisalmer State's minister Salim Singh. The Rajasthan State Government decided to develop it as a tourist spot.
5. The Aleya Ghost Lights at the swamps of Bengal
If you happen to travel to the swamps of Bengal, you might get lured into a swamp by a mystical light. The Aleya Ghost Lights are a member of the eerie global family of ghost lights, also known as will-o'-the-wisps. They're flying, glowing orbs that float above the marshland and lure unwary travelers in the distance.
In pics: Amazing waterfalls in India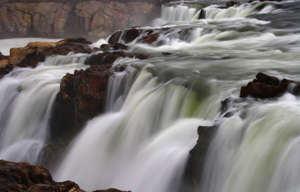 Also watch