5 Magical Places in Thailand You Didn't Know Existed

HolidayIQ.com
11-10-2016
Thailand is one of the world's most beautiful countries, having spectacular natural and cultural attractions. Tropical climate, varied terrain and a colorful heritage, Thailand has it all! These five spots will stun you.
1. Erawan Cascading Waterfalls and Caves is a wonderland
Take a drive to Erawan National Park which was founded in 1975, at Tha Kradan and you can witness a series of seven waterfalls flowing over graceful limestone terraces. The park is also home to a series of caves named Mi, Rua, Wang Bahdan, and Phartat. Visitors can hike along the seven waterfalls and swim in some of the pools. 
2. Bangkok's Ghost Tower is the Sathorn Unique skyscraper
Prominent Thai architect Rangan Torsuwan had epic dreams for Sathorn Unique at Soi Yan Nawa but in 1993 was arrested for allegedly plotting the murder of the President of the Supreme Court. Construction started but was never completed. It is extremely eerie, spooky graffiti-covered walls and sinister messages scrawled in every nook and cranny.
3. The Lotus lake is the pinkest place on earth
The lake is called Nong Han Kumphawapi in the northeast, north of the town of Kumphawapi, about 50 kilometers away from Udon Thani. The shallow waters is visited on a wooden boat belonging to the local fishermen and villagers. A vast space of millions of startling, flamingo-pink lotus flowers float merrily on the crystalline waters of the Lotus Sea. 
4. Wat Pa Maha Chedi Kaew, a temple of a million beers
Wat Pa Maha Chedi Kaew is also known as the Temple of a Million Bottles, a Buddhist temple in Khun Han district of Sisaket province. it is made of over 1.5 million empty Heineken bottles and Chang beer bottles. The collection of the bottles began in 1984 and it took two years to build the main temple.
5. Koh Hingham is the cursed island of black pebbles
Koh Hingham is a small uninhabited island where the God of Tarutao, a Thai deity, is said to have placed a curse on the island. Any visitor who dares to take even a pebble off the island would be cursed forever. Each year the National Park office receives dozens of stones returned via mail, sent back by people who want to lift the curse.
In pics: India's amazing waterfalls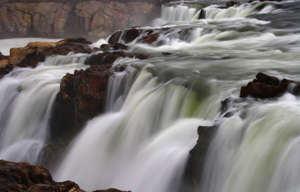 Also Watch