7 places that are cheaper & better in August!

HolidayIQ.com
29-07-2016
August marks the second half of monsoon in most places in India. Rains have been in full flow for more than a month now and some places have completely transformed to become absolutely unmissable. Here's to making your search easier.
1. Cherrapunjee for its rain
As if Cherrapunjee needed monsoon to become more beautiful! Still, the full force of the downpours in August don't do any harm, as the stunning waterfalls become more awesome than ever. 
2. Kanyakumari for the stunning sunsets
Surrounded by oceans on three sides, Kanyakumari is the southernmost tip of India and welcomes tourists with a pleasant weather at this time of the year.
3. Mahabaleshwar for mist soaked forests
Bound by valleys on all sides and consisting of three beautiful villages, Mahabaleshwar is a place you can visit on a shoestring budget. 
4. Mandu for central Indian culture
Mandu is a perfect example of Afghan architecture and has its association with the legends of Prince Baz Bahadur and Singer Roopmati. Other attractions in the region include canals, old baths and crafted pavilions.
5. Panchgani for green hills
It's named 'Panchgani' as it comprises of five villages situated in the middle of five hills in the Sahyadri mountain ranges. 
6. Turtuk for its surreal scenery
Recently opened for tourists in 2010, Turtuk offers a much different landscape and cultural orientation than the rest of Nubra Valley. You can see apricot trees across the entire village with views closer to Karakorum range.
7. Udaipur for its grandeur
There are many must-see places in Udaipur; street food in the heart of the city is a must-try. Udaipur is the pinnacle of Rajasthani cuisine with delectable dishes like Ker Sangri, Kadhi, and Gatte ki Sabzi served with Bajra roti.
In pics: 30 of the best hill stations in India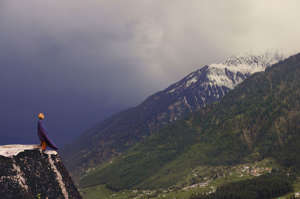 Also watch