Are all-inclusive holidays really value for money?

Easyvoyage
10-04-2017
When looking to book a summer holiday, be it as a family, a couple or a group, easy-planning, convenience and any way to save costs is what most of us are looking for.
Unsurprisingly all-inclusive deals have become more popular in recent years, so popular in fact, that some top tour operators now only sell this type of travel. It means a broader choice of resorts all over the world at varied costs and standards.
Buying into an all-inclusive deal means you are able to plan your budget before you even board the plane. You know that the amount you are spending will cover the majority of the trip including your flights, accommodation, drinks, meals, child-care and some activities.
The up-front payment should give you a clear sum of how much the holiday will cost. As many as three in four regular all-inclusive holiday-goers have said that they end up spending far more money on extra things than anticipated.
Here are a few tricks you need to watch out for to avoid paying extra charges when booking your all-inclusive holiday.

© Provided by Webedia SAS "the all-inclusive experience"
Ensuring you book any holiday in a location which suits you is an essential for any holiday, but more importantly with an all-inclusive holiday. If you think you will want to spend more time outside of the resort exploring or eating out in local restaurants then perhaps this type of holiday wouldn't be for you as costs will add up rapidly on top of what you have already paid for.
Location is key with an all-inclusive resort because you don't want to feel isolated from local life in a resort that is set apart on its own. However, if relaxing by a pool with the kids easily in sight is what you need then a more secluded option would work for you.
You may feel guilty leaving the hotel for a day as you have paid to be there and should make the most of it. But it is important to remember you are not a prisoner in the resort and taking trips out will perhaps give you a more exciting and worthwhile holiday.
A negative side of many all-inclusive resorts is there is often no refund for your booking. Many companies will offer fantastic deals for an "off-season" holiday, such as a trip to the Caribbean during hurricane season, but you could end up stuck in an isolated resort having already paid for the activities.
A positive of going all-inclusive, as opposed to self-catered, is the relaxing feeling of not having to think about cooking, buying snacks for the kids, or getting lost in a foreign supermarket. Included in the price you can guarantee your three meals a day, and perhaps the odd ice-cream, all in the comfort of your own resort.
Also watch

If you have high expectations on food you may wish for a slightly more up-market resort, as the majority of low-end resorts will offer only a buffet meal. Some will have an alternative à la carte restaurant but it is likely that this will cost extra, whilst high-end places may allow you to eat in a variety of retaurants for no extra cost.
Drinks will most likely be included in the deal, but watch out for resorts that will try and charge extra for a branded drink, or only include alcoholic beverages at meal times.
If you're looking for adventure and sightseeing every day, dining with locals and discovering authentic places off the beaten track - the all-inclusive route is probably not for you.
Any resort will offer activities, from water sports to day excursions but you must check that the activity you or your kids have your eyes on is a part of your deal. Watch out for these tricks as what you thought was a free water-skiing lesson could entirely blow your pre-planned budget.
Spa treatments are usually always an extra cost, even in the highest-end hotels, which can add up considerably throughout the trip.
One thing that is always included in the majority of resorts is the live entertainment. Whether you feel it is enjoyable or tacky, it's a main feature of the "all-inclusive experience" that you can rely on.
The most important factor for any holiday is that it's time for you to relax and enjoy yourself. There are hundreds of different types of all-inclusive holidays to choose from, whether it's a family resort, a romantic couples retreat, or an active, adventure-filled trip.
Staying in a resort may feel somewhat impersonal with a more fixed schedule regarding mealtimes, and a lack of privacy with a busy shared pool or beach. But the experience is a way to switch off, forget the worries of planning and organising, and be waited on hand and foot. Your kids can socialise (and often go free) and you can meet like-minded people in a comfortable environment.
Just make sure you read the small print!
More from MSN Travel
In pics: Best money saving tips for travel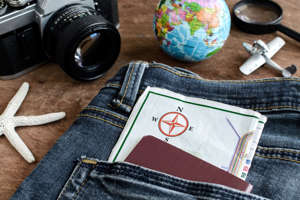 The best money-saving tips for travel