Cruise passengers to Singapore hit highest level since 2009

The Hindu Business Line
18-03-2014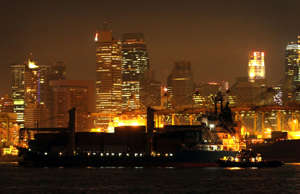 Ahmedabad: The number of cruise passengers heading to Singapore has touched highest level in four years. Singapore Tourism Board (STB) data revealed that Cruise passenger throughput has touched 1.03 million for 2013, highest since 2009, when it was reported at 1.14 million.
However, the STB data showed that the number of cruise ships calling the Singapore ports have dropped by more than half from 926 in 2009 to 390 in 2013.
In 2012, the cruise passenger throughput was recorded at 0.91 million or lowest since 2009 with 334 cruise ships calling the Singapore ports.
"There is a steady rise in the cruise passenger throughput. Cruise continues to be a major attraction to visit Singapore," said Bridget Goh, area director (India & Sri Lanka), Singapore Tourism Board at a media interaction in Ahmedabad on Friday.
The STB official revealed that Indian tourists spent S $ 916 million in the first nine months of 2013 (January-September) and ranked third, showing 9 per cent growth from 2012.
"The spending by Indian visitors on accommodation has shown rapid growth due to high number of business visitors. This is followed by spending on sightseeing," said Goh.
The overall tourism revenues of receipts during the period stood at S $ 17.7 billion, which is 4 per cent higher than the corresponding period previous year.
STB noted that out of total 11.8 million international visitors recorded during January-September 2013, about 703,000 of fifth highest were from India.
"We have seen sustained interest of leisure travellers from India despite fall in the Rupee value," said Goh.
STB has started focusing on Tier 2 cities including Ahmedabad, Pune, Hyderabad, Kochi, to tap the middle class population.
Singapore, which has 373 hotels with over 54,900 room capacity, is also planning to add 3000 rooms during 2014.
For 2014, tourism revenues are expected to increase by 2-5 per cent to S $ 23.8 to 24.6 billion, while the international visitor arrivals to go up by 5-8 per cent to 16.3-16.8 million.