Discover the secrets of Universal's Wizarding World of Harry Potter

Photos
07-04-2016
Do you wish to cast spells, meet magical creatures or explore the mysteries of Hogwarts School of Witchcraft and Wizardry? Fans of Harry Potter can fulfill their fantasies at The Wizarding World of Harry Potter, which is set to open at Universal Studios Hollywood in Los Angeles, California, U.S., on April 7, 2016. 

The theme park includes the village of Hogsmeade and Hogwarts School of Witchcraft and Wizardry. It is inspired by J.K. Rowling's "Harry Potter" novels and the hugely-successful film franchise. Muggles can enjoy:
Joy Rides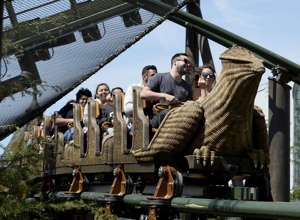 Flight of the Hippogriff: This family-friendly roller coaster will sweep past Hagrid's hut and dive around a pumpkin patch.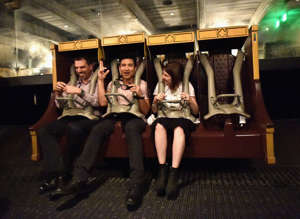 Harry Potter and the Forbidden Journey: This 3-D motion ride will take you over the grounds of Hogwarts castle, and lets you join Harry Potter and his friends for a thrilling adventure.
Things to do

Be a part of the Triwizard Spirit Rally as students from wizarding schools Beauxbatons and Durmstrang put on an exciting show for the Triwizard Tournament!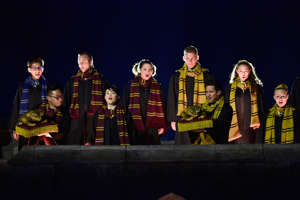 Enjoy songs presented by a choir of Hogwarts students along with their large croaking frogs.
Apart from sending a letter with a Hogsmeade postmark, you can also buy The Wizarding World of Harry Potter stamps and owl-related toys and gifts at Owl Post.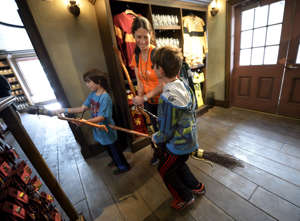 Shop at Ollivanders, the finest makers of wands in the world. If you are looking for Quidditch equipment or Hogwarts uniforms, try Dervish and Banges (pictured above). Also, check out the Marauder's Map and magical toys at Filch's Emporium of Confiscated Goods!
Food to try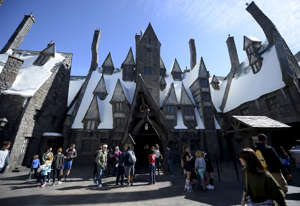 Head to Hogsmeade village, where cobblestone streets are lined with thatched cottages and snow-capped shops, to enjoy authentic food and drinks from the "Harry Potter" series.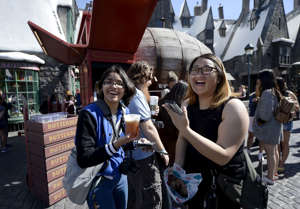 Savour the favorite drink of Hogwarts' students — cold and foamy Butterbeer. This will be available at almost all the food outlets. 
Try the Three Broomsticks restaurant for fish and chips, shepherd's pie, pumpkin juice and more. At Honeydukes, you can find an array of sweets including Bertie Bott's Every-Flavour Beans, exploding bonbons, Fudge Flies and Chocolate Frogs.
In Pics: Inside the Harry Potter theme park