Govt wants to improve connectivity to Northeast

ANI
21-02-2014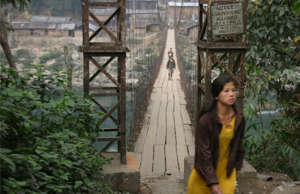 New Delhi: The government is trying to develop infrastructure to facilitate better connectivity in and to the Northeast via road, rail and air.
Railway Minister Malikarjun Kharge, while presenting the interim railway budget in the Lok Sabha on February 12, announced the commencement of railway services to Arunachal Pradesh and Meghalaya. He also announced the conversion of the Rangiya to Murkongselek meter gauge line in Assam into broad gauge within this financial year.
Moreover, the Dudhnoi to Mehendipathar railway line in Meghalaya will be complete by March this year.
"As a result of additional financial support provided to the railways, we are now on course to converting the strategically important 510-kilometre long Rangiya-Murkongselek metre gauge line into broad gauge within this financial year. The capital of Arunachal Pradesh would soon be on trial map, as the new Harmuti-Naharlagun line is expected to be commissioned shortly," Kharge said.
Recently, a railway engine made its maiden journey from the Harmutty station to Itanagar upto the Naharlagun railway station for a trial run. The 20-km long railway line that was announced in 2008 is expected to begin formal service by April this year.
"For a state like Arunachal, one of the most important things is that people should get connected with the rest of the country, and also other parts of Arunachal. And trade and commerce should move. This, I think, will be the biggest contribution of the railways," said " K. Sharma, an official with the Northeast Frontier Railways.
Steps are being taken to expand the rail network in the land-locked region. Recently, the Mariani-Furkating local passenger train in Assam was extended till Dimapur in Nagaland. The five coach train will now ferry passengers from Mariani to Dimapur on a daily basis, except on Sunday.
The Jorhat Vikash committee has also asked the railway authorities to connect two long distance trains from Delhi and Kolkata to the Jorhat station. Similarly, in Manipur also, the construction of a railway line from Jiribam to Imphal is in full swing.
"We are very happy with the starting of this train service as we have got a cheap and convenient mode of transport. For Rs 30 we can go to Dimapur. We would like to thank the DRM and GM for providing this facility to the people of Jorhat," said Niranjan Jain, president, Jorhat Vikash Committee.
Better connectivity will give a fillip to the tourism industry of the region, and will also speed up industrialisation. It will also boost trade and people to people contact with rest of the country, as well as neighbouring ASEAN countries.