Indian domestic tourists cross one bn mark

IANS
23-02-2014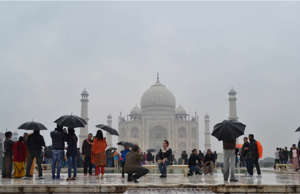 New Delhi: Bringing cheer to travel companies faced with a drop in foreign tourist arrivals in India last year, the government said domestic tourism crossed the one billion mark in 2012.
The tourism ministry, in a statement here on Friday, said provisional figures showed there were 1,036.35 million domestic tourists during 2012 - which is a 16.5 per cent increase over the 864.53 million recorded in 2011.
Initial estimates of foreign tourist arrivals in 2013 show a falling growth of around four per cent, less than the five per cent growth in 2012 when upwards of 20 million foreign tourists visited India.
Foreign exchange earnings from tourism in 2013 grew 2.2 per cent to $18.1 billion - compared to a growth of 7 per cent in previous years.
The drop in foreign tourists last year is attributed by both industry and government circles to concerns about women's safety in the country, particularly with women making up 30 per cent of foreign tourists to India.