J-K bags best state national tourism award

PTI
01-03-2014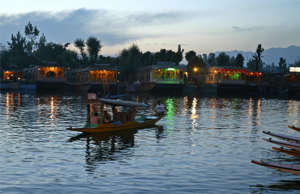 Jammu: Jammu and Kashmir has bagged the National Award for 'best state for comprehensive development of tourism' in India.
For the second year in row, the Ministry of Tourism, has valued and appreciated the working of Jammu & Kashmir Tourism Department by conferring it with the National Tourism Award in the "best state - comprehensive development of tourism" category, an official spokesman said here.
The award was presented to the state tourism minister Gulam Ahmed Mir by minister of state for human resource development Shashi Tharoor at a function in New Delhi.
"We are happy to receive the award. I and my team of officers have worked on all fronts to ensure the comprehensive development of tourism in the state", Mir said.
This has been possible as the department completed Central Financial Assistance (CFA) schemes within the stipulated time and had put in place a mechanism to monitor the progress of projects, Mir maintained.
The Tourism Ministry has implemented major projects like the Nagar Mega Heritage Tourist Circuit, Tourist City Centre at Srinagar and also introduced niche activities like paragliding and yachting to add a new dimension to the adventure segment in the Kashmir valley, Mir said.
Promotional activities were undertaken in new potential markets like South East Asia, Saudi Arabia, Turkey, Lebanon, Jordan, Russia, Tajikistan, Kazakhstan and others, the tourism minister said.
In Jammu division, he said the department has earned laurels for developing border tourism and for revitalisation of the Mubarak Mandi Heritage Complex. Ladakh continues to attract tourists for its unparallelled landscape and unique culture.
The Jammu & Kashmir Cable Car Corporation commissioned a new lift at Makhdoom Sahib Shrine, Srinagar besides installing Ski Chairlift at Kongdori - Gulmarg for promoting skiing in the international market, Mir said.
Jammu & Kashmir Tourism Development Corporation made functional its new property at Yousmarg and also augmented facilities at its hutments elsewhere.
SKICC, Srinagar hosted several international and national conferences and earned praise from all quarters regarding immaculate conduct of these events.
A Golf Development and Management Authority was constituted and Royal Springs Golf Course easily held-on to its status as the most cherished course in the country. The Leh Golf Course, when ready, will be the most inimitable course in the world, Mir said.
The state has earned fame for developing niche tourism activities in golf, aero sports, water sports and skiing/snowboarding, he added.