Jhelum beautification project to boost tourism in Kashmir

ANI
02-01-2014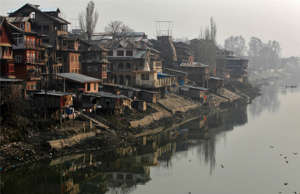 Srinagar: Authorities have taken up resurrection and beautification of the river Jhelum in Jammu and Kashmir to boost tourism and generate employment.
Authorities associated with the rehabilitation and beautification drive have sought help from the state government. So far, the drive has seen an expenditure of Rs 3.33 crore in the drainage and development of a flood channel during the first phase.
"We have now created Phase-II of the beautification process costing Rs 15 crore. So basically this is the beautification part and it is not funded by the government of India. For this we have to seek help from the state and the amount for the second phase of the project amounted to Rs 15 crore, said chief engineer, irrigation and flood control in Kashmir, Javaid Ahmad.
To tackle the issue of illegal encroachments, the authorities have set up small gardens and have also employed people for manually removing slit from the river. Keeping in mind the general atmosphere in Kashmir, the authorities have restored banks and walkways so as to attract maximum tourist inflow.
People in the valley, especially the youth who are looking for means of employment, are pinning hopes on the project.
"This will benefit tourism because the beautification drive is leading to good results. If you see now, the back and sides of River Jhelum have been maintained very well," said a resident, Nisar Shah.