Narendra Modi wants foreigners in India to boost tourism

PTI
25-01-2014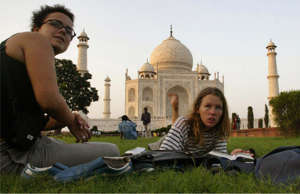 New Delhi: BJP's Prime Ministerial candidate Narendra Modi sought to woo NRIs, asking them to do something for their native land, including by encouraging foreigners to visit India.
"Indians, especially Gujaratis, have a big presence in the hotel industry abroad. If they can motivate people staying in their hotels to travel to Gujarat, India...do nothing but help send 10 people to India. It will be a huge boost to tourism," Narendra Modi said, addressing the NRIs at the Pravasi Bharatiya Divas here.
The Gujarat chief minister also urged them to use social media to keep in touch with their native places, saying it could be especially effective in connecting the next generations with their roots.
"Everybody can't afford to spend lakhs of dollars in investing in India. But he can spend a few hundreds to do something worthy in his native village...you can use technology to connect with your native land," Narendra Modi said.
Using the opportunity to advertise his leadership, Modi cited his government's thrust on building new cities and developing its 1600 km coastline, saying modern societies need "symbols" of change that can lead to further development.
"For us, urbanisation is an opportunity. We are building six new cities. Walk-to-work is the concept. Dholera, 80 km from Ahmedabad, will be bigger than Shanghai with all modern facilities," he said.