Ten adventurous places to propose

Wanderlust
14-02-2016
Want a unique engagement story? Make sure the place where you propose reflects your love of travel – we've got 10 adventurous ideas up our sleeve...
1. Ballooning over Bagan, Burma/Myanmar
Drifting over the mystical pagodas of Bagan at dawn, in a private hot air balloon watching the sun rise over the sacred peaks... South-East Asia isn't short of romantic spots, but you'll be hard-pressed to find one more awe-inspiring than this. Burma/Myanmar only opened to tourists a few years ago, so if you're looking for a unique story of how you proposed, this is the spot for you.
Make it happen: Travel between March and October for the best temperatures – although allow time to be flexible, as daily weather conditions may vary. Travel with a tour operator for ease and value for money: bespoke and fixed-date itineraries are available from the likes of Eastern Safaris, G Adventures, Cox & Kings, Buffalo Tours and Abercrombie & Kent.
2. Iguazu Falls, Brazil
South America's grandest waterfall is set amid a national park of jungle and jaguars. The best way to witness the true force of Iguazu is from the comfort of a helicopter. The Devil's Throat is the most spectacular of the 275 waterfalls, creating a spectrum of colours among the watery mist.
Hover among rainbows in your very own helicopter (bookable through most local tour companies), and pop the question while the falls roar below. You'll leave the falls bone dry, unlike the drenched spectators below – just don't drop the ring...
Make it happen: Iguazu Falls is open year-round, but September and October promise the best weather. Although it is possible to book in advance, we'd recommend booking while in Foz do Iguaçu as flying conditions can vary. 
3. KwaZulu-Natal, South Africa
This Unesco World Heritage Site is home to 40km of pristine and undeveloped coastline along the Maputaland Marine Reserve – so you can ask that all-important question in spectacular solitude. You don't have to do it the traditional bended-knee way, either: how about while spotting tracking white rhinos on a game drive, over a private candlelit dinner on the beach, or scuba diving alongside turtles with 'Will you marry me?' scrawled on a blackboard? Whatever you choose, the memory will stay with you for a lifetime.
Make it happen: Although safari in South Africa is good all year round, African summer months (October to March) are better. Skies are cloudless and due to the close proximity to the coast, the sea breeze provides relief from the 30°C temperatures. All of the above activities (and more!) can be organised through local safari lodges and tour companies – so enquire when booking how they can be tailormade to suit your plans. 
4. At.mosphere, Dubai
Toast your engagement in the world's tallest building – Dubai's incredible Burj Khalifa. Soar to an astonishing 442 metres above the UAE's famous city and step out onto floor 122, home of restaurant At.mosphere – and gaze out on the bright lights of Dubai, the desert, and the Arabian Gulf. Up here, you can feast on gourmet dishes, sip Champagne cocktails or nibble on afternoon tea – and as the sun goes down, there's no better spot in the city to pop the question.
Make it happen: Dubai is hot year-round with low rainfall, but you'll find cooler temperatures (22-30°C) from December to March. Tables at At.mosphere must be booked in advance, according to the afternoon tea/lunch/dinner/sunset timeslots; see the website for details. Window seats aren't guaranteed, but arrive promptly for your timeslot for the best chance. Be aware of cultural sensitivities: although At.mosphere serves alcohol and is a fairly 'relaxed', discreet setting, overt public displays of affection aren't tolerated anywhere in the UAE – and that includes kissing. Check the FCO's guidelines before you go.
5. Finland's Northern Lights
When the Aurora Borealis casts its dazzling colours over the snow-covered landscape of Lapland, seize the moment to get down on bended knee. This is one of nature's most spectacular moments – a fitting backdrop for one of the most romantic scenes of your life. It's impossible to fully predict the Northern Lights, so be prepared with the ring in your pocket – and if they don't make an appearance, have a back-up plan. How about proposing after a husky-drawn sleigh ride to the middle of snow-covered nowhere, or after a thrilling snowmobile trip?
Make it happen: Winter is the best season to see the aurora – and if Finland doesn't fit in with your plans, try the best alternative places to see the Northern Lights around the world. 
6. Le Monal, France
Forget Paris – we reckon we've found the most romantic place in France. The little-known treasure of the French Alps is Le Monal, a small farming hamlet surrounded by larch forests and mountain glaciers. Hidden away some 1,850m above sea level, the listed site is only accessible by foot. The gentle hike takes half an hour each way and meanders through a well-trodden forest track before reaching luscious alpine meadows, strewn with flowering greenery and glacial streams.
Gaze at views of Mt Pourri while tucking into a romantic picnic – don't neglect to try Le Monal's famous goats cheese, persillé. With only three chalets, a church and mountain streams, this is great spot for a secluded moment among fabulous scenery.
Make it happen: Le Monal is unoccupied during winter, so visits are restricted to summer months. The hike starts from Echaillon, a car park 3km from Sainte Foy Tarentaise Ski Resort. 
7. Sungai Lebam, Malaysia
The wetlands preservation area on the Malaysian Peninsula is home to thousands of blinking beacons. Fireflies swarm these mangrove swamps, living off the berembang tree nectar and creating a lambent spectacle after dark. Private boat tours are available in the town of Kota Tinggi and take you through the maze that is the mangroves to the fireflies' favourite hiding place. With nothing but the moonlight and glinting reflections of the incandescent bugs, it makes a beautiful spot for a proposal.
Make it happen: The best time to see the fireflies is an hour after sunset. Avoid the full moon, as fireflies won't often emerge from the grasses. Remember: don't use flash photography while in the presence of the fireflies because it can kill them. A range of boat tours are available in the town of Kota Tinggi, approximately 90km from the state capital, Johor Bahru. The most convenient way to travel is by car or alternatively, there is a twice-daily ferry service operating between Tanah Merah Ferry Terminal, Singapore to Sebana Cove, Kota Tinggi. 
8. The Royal Scotsman, Scotland
The Royal Scotsman train is known as one of the most lavish ways to travel in Europe. Mahogany clads the train interior and tartan furnishings speckle the decks. Choose from five different itineraries, and just wait for that perfect moment to pop the question...  While exploring castles in the Highlands, perhaps, or searching for Nessie at Loch Ness? The train itself, coupled with the incredible Scottish wilderness, makes any journey spectacular.
Make it happen: Trips run from April to October, and departure dates are fixed – so check the Royal Scotsman website http://www.belmond.com/royal-scotsman-train/journeys for itineraries and details. 
9. Mt Toubkal, Morocco
There is no feeling quite like standing on top of the world. At 4,168m, Mt Toubkal has the highest viewpoint in north Africa. Unfurling before the mountain peak are the battlements of the Anti-Atlas peaks and the Saharan desert; it is no wonder that Berbers baptised it 'the view-point'. Although more adventurous, the euphoric feeling of reaching the summit combined with the début of a ring on your fourth finger would be next to none.
Make it happen: This entirely depends on your preference – November to April is winter season with snow above 3,000m. Crampons are therefore required. During the summer months, it's more crowed and the views are less striking but it's generally an easier climb. No crampons are needed - only a good pair of hiking boots are compulsory. The summer climb is a three day round trek from Marrakech. Take your pick from operators such as Exodus, Explore, and KE Adventures.
10. Matanuska Glacier, Alaska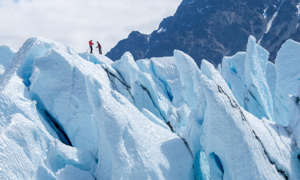 Glaciers are beautiful; frozen in time, their undulating surfaces are tinged with forget-me-not blues as they carve their way through rugged mountainscapes. Matanuska is an incredible 27 miles long and is home to some spectacular features like ice falls, moulins, crevasses and ice caves.
Make it happen: The best time to travel is May through to September. It takes around two hours to drive from Anchorage to Glacier Park along the Glenn Highway. Mica Guides offers a trek across the glacier fully equipped with crampons, helmet and ice picks: a great introduction to ice climbing and an adventurous way to start matrimony.