The mountain monastery that time forgot

Easyvoyage
07-12-2016
The mountain monastery that time forgot Overlooking Israel's Kidron Valley, 'Mar Saba', or 'The Holy Lavra of Saint Sabbas the Sanctified' as it is known by those with a penchant for sibilance, is an ancient Greek orthodox monastery with a flavour of the spectacular.
Dating back to 438 AD, and set on the Abraham path at a halfway point between Old Jerusalem and the Dead Sea, the monastery is one of the most precious and iconic Christian sites in the Middle East.
Nowadays an easy car journey from Bethlehem, the monastery was built by over 5,000 monks seeking solitude and sanctity and headed by Saint Sabas - the monk to which Mar Saba owes its name. They were just one group of many monks, from Egypt to Palestine, who would set out from their urban quotidians to settle in the barren desert in order to nourish the soul and escape the material world.
No place better captures this pursuit of solace and retreat than Mar Saba. It is, in essence, a pocket of Christian history in the Judean desert. No matter what your beliefs, your faith, Mar Saba should be a draw, evoking an awe that attractions like the Empire State building or Dubai's Burj Khalifa just cannot match. The history and strength of faith are intangible, yet enchanting.
Indeed, tradition is so strong in this monastery that, by and large, original monastic rules are still followed to this day. These rules range from the niche - only olive and lemon trees are permitted to be planted, and apples are forbidden inside its walls - to the significant, and today, as it has been for over 1,500 years, women are not permitted to enter the monastery, except for one purposefully built tower near its entrance.
This final law is so entrenched in the Mar Saba culture that, according to local legend, a woman once tried to enter the monastery dressed up as a man but the earth started shaking and so the priests quickly discovered the imposter.
Mar Saba is the last of 80 byzantine era monasteries built in the area, and as such a last bastion of Christian faith in a land where religious strains have come to be the norm. It is said that Morton Smith discovered a copy of a letter to Clement of Alexandria here containing excerpts of a so-called 'Secret Gospel of Mark', and that for several centuries it was home to the Archimedes Palimpsest, as well as the tombs and relics of Saint Sabas and Saint John of Damascus.
More than that, though, Mar Saba has a gravitas of feeling. Almost every account attests to its spirituality, its settled and still silence, where prayers ruminate and resonate. It feels less like faith was brought here by the monks and more like the same monks were drawn here inextricably by the quasi-divine power of the mountains.

How best to visit
Officially open from 8am to 4pm every day, visiting the monastery is not really as simple as walking in during opening hours. Those who have visited recommend contacting the monastery well in advance, though the monks have the right to refuse entry to anyone at any time, meaning most choose to visit as a day trip from Bethlehem and view it from nearby vantage points.
Perhaps the best way to explore Mar Saba without disappointment is to take in the Kidron Valley as a whole, using Bethlehem as a base. You will really get a sense of the monastery's setting, and why it is so significant. In Bethlehem there are plenty of highly affordable hostels, starting at around £10 per night, so you won't have to worry about staying in the stables. Although, if you are heavily pregnant, that might be worth a shot.
A visit to Mar Saba must also be followed by one to Jerusalem. The Holy City is, without doubt, one of the wonders of the world. The best time to go is in early summer when cultural events appear at every turn, including light, film and wine festivals. This portion of the Middle East is becoming increasingly turbulent and decreasingly enjoyed. However, it is a veritable goldmine of natural, religious and man-made wonders. Mar Saba is the tip of a spectacular iceberg.
More from MSN Travel
In pics: Places around the world reclaimed by nature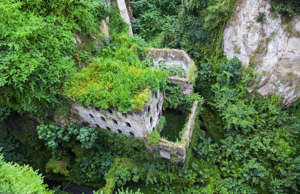 The long farewell: Places around the world reclaimed by nature
More from Easyvoyage

Easyvoyage