Tourists scream as hot air balloon lands in alligator-infested pond near Disney World

The Independent
06-07-2017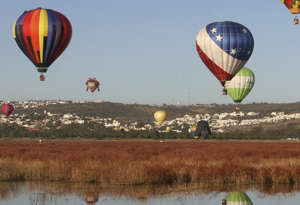 Seven people are thanking their lucky stars to be alive after a relaxing hot air balloon trip crashed into an alligator-infested pond near Disney World.

In a video capturing the aftermath of the crash, people can be seen screaming as the wicker basket sinks further and further into murky waters in Florida. There were seven people on board the flight, including children, according to reports.
The pilot later said that they weren't able to land the balloon on land because of shifting winds that made it impossible to move the balloon to safer areas.
"We were excited about this, but it got scary real fast," one of the passengers later told reporters.
© Provided by Independent Print Limited image

"The balloon tilted. The basket tilted. People got underneath the plastic, and that's when it got series," he continued.
While parts of Florida teem with alligators, fatal attacks aren't as common as the horror stories might lead one to believe. Still, a dozen or more bites are recorded each year, according to statistics from the Florida Fish and Wildlife Conservation Commission.
This hot air balloon carrying 17 people landed in a gator-infested pond near Disney World https://t.co/syeZEsLHUipic.twitter.com/oovfnlRzIU

— CNN (@CNN)

July 4, 2017