Uttarakhand govt to ease taxes to promote tourism

The Hindu Business Line
28-03-2014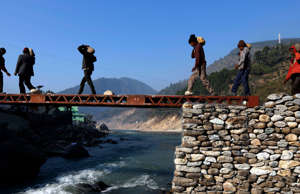 Rishikesh: The Uttarakhand government is planning to relax taxes in the state such as state royalty for peaks, luxury taxes, and peak fee for mountain trekking, to promote tourism and encourage investment, said Uma Kant Panwar, Tourism Secretary of the state.
Panwar was speaking at the 11th Adventure Tour Operators Association of India (ATOAI) convention in Rishikesh on Tuesday.
The three-day convention is being held in the state with an aim to erase the memories of the turbulent events of last year's disaster.
Panwar said the state government is also improving connectivity via roads and the 'Paanch Dhams' will be opened on May 2 with a uniform schedule.
As far as adventure sports are concerned, he said the state is trying to resolve issues in rafting by working on a rafting policy. It is also working on beach camping policy.
The aftermath of the monsoon deluge in June last year has brought an opportunity for reconstruction the state, Panwar added.