Walk Off The Beaten Path And Uncover The Hidden Jewels of Himachal

HolidayIQ.com
08-08-2017
Himachal is humungous and if you want to trod the unknown, you will find innumerable such trails that will ignite your curiosity and satiate your quest for off-beat travel.
1. Renukaji Lake
The lake, whose circumference is 2.5 km, is the largest in Himachal and is fed by underground springs. It is also unique as the lake is shaped like a profile of a woman. HolidayIQ traveller Shubham says, "This beautiful lush green lake surrounded by mountains, is worth a visit." 
2. Jamu Peak
Jamu Peak is around 8 kms away from the Renukaji Lake near Nahan. From the top, tourists can see amazing views of the lake and its surrounding valley. It is also believed that Sage Jamadagni meditated here. There is a small temple on the peak which marks the spot where the sage sat and meditated.
3. The Mini Zoo & the Lion Safari
HolidayIQ traveller Tarish says, "It is a very good picturesque place where you can take good photos." Another traveller Subrata adds about his experience, "It was an adventurous walk to the length of the Renuka wildlife park. It's a must visit place at Nahan." Adjoining the zoo, an armored van enters the large enclosure allowing for a close glimpse of the lions within. 
4. Jataun
Jataun is located 5 kms away from the Renukaji lake. It is an ideal place for the enthusiasts trying out their luck at Mahseer angling in Renukaji lake. The dam of Giri Hydel Project is also located nearby.
5. Paonta Sahib
HolidayIQ traveller Kiran Sood says, "This is a sacred space where Guru Gobind Singh Ji used to organize kavi-sammelan to recite poetry by the side of Yamuna. The noise of river Yamuna used to be a bit disturbing in the beginning. As per legend, one day Guru Sahib asked the Yamuna for silence and till date the river flows quietly at that particular area."
In pics: Mysterious caves in India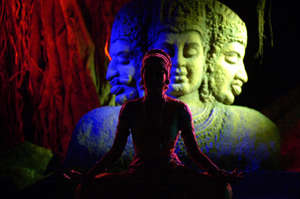 Also Watch