World tourist numbers surge to nearly 1.1 billion
Agence France-Presse (AFP)
22-01-2014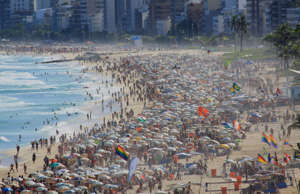 Madrid: International tourist numbers surged to nearly 1.1 billion in 2013 in defiance of global economic troubles, with Asia-Pacific destinations enjoying the fastest growth, a United Nations body said on Monday.
The rise in tourism coincided with sluggish economic growth worldwide and unrest in top destinations such as Egypt, shunned by visitors fearful of the turmoil unleashed by the army's ouster of Islamist president Mohamed Morsi in July.
Despite those troubles, the number of international tourist arrivals beat expectations by soaring five per cent to 1.09 billion in 2013, the UN World Tourism Organisation said in a report, tipping further growth in 2014.
"The tourism sector has shown a remarkable capacity to adjust to the changing market conditions, fuelling growth and job creation around the world, despite the lingering economic and geopolitical challenges," said the UN body's secretary general, Taleb Rifai.
"Indeed, tourism has been among the few sectors generating positive news for many economies," he said, hailing 2013 as an "excellent year".
Expectations of stronger economic activity set the scene for a further expansion in tourism in 2014 with international arrivals expected to grow again by 4.0-4.5 per cent in 2014, the body said, urging countries to support fair and sustainable growth in the sector.
International tourist arrivals rose at the fastest rate in the Asia-Pacific region, where numbers were up by six per cent to 248 million, it said. Southeast Asia performed best, with arrivals up 10 per cent.
Europe, however, remained the biggest destination overall, with international tourist arrivals up five per cent to 563 million. In the Americas, arrivals grew by four per cent to 169 million. The number of international tourists arriving in Africa grew by six per cent to 56 million.
But results in the Middle East were "mixed and volatile", with arrivals from other countries unchanged at 56 million, the report said.
Among countries of origin, Chinese tourists - already leading the way with expenditure of $102 billion in 2012 - pushed up total spending by 28 per cent in the first nine months of 2013, the UN body said. Tourists from Russia, the fifth largest country of origin of international tourists, drove up spending by 26 per cent in the same period, it said.