10 Mind Blowing Natural Marvels In India That You Will Totally Want To Instagram About

Polka Café
20-03-2019
There are no second thoughts about the fact that India has been blessed with some phenomenal places that always leave people in awe. With all our incredible historical monuments, there are scores of natural marvels, too. Listed below are some of these natures wonders.

1. Walking Through Neon Waters
Image credit: Flickr
Place – Kavaratti & Bangaram Islands, Lakshadweep
Beaches that glow with neon blue lights at night are a mesmerizing sight, and in India, Lakshadweep is the place to witness this. While it may seem as though stars have literally fallen down from the sky, the phenomenon is actually caused by Planktons, (micro-organisms) which emit electric blue lights when disturbed.
2. Magnetic Hill
Image credit: Speaking Tree
Place – Magnetic Hill, Leh-Ladakh.
Vehicles get pulled uphill with the ignition turned off. It baffles everyone who visits the Magnetic Hill in Leh-Ladakh. It may sound unbelievable, but it is true, that if you place your vehicle at the marked box on the road, it will automatically start moving uphill at 10-20 kmph.
Don't miss out! Subscribe to fortnightly Newsletter for the best of MSN
Villagers have superstitions attached to it and some even think of it as something supernatural, but the truth is quite the opposite. This particular region is said to have a relatively higher magnetic force. Optical illusion also comes to play here. What appears to be an uphill slope is, in reality is a downhill slope. However the illusion created often confuses visitors.
3. Watch The Sea Vanish
Image credit: Six Images
Place – Chandipur beach, Odisha
The Chandipur beach enthralls people, seemingly playing hide and seek with its disappearing and reappearing waves. It is gradually gaining popularity. Every day, the sea water retreats up to 5 km from the shore during low tide, making it seem as though the sea has disappeared. During this time, people can take a walk or drive on the sea bed. When there is high tide, the sea returns and submerges the beach again. It is a spectacular sight and rare too. The unique biodiversity of the region, adds to the experience.
4. Floating On The Islands
Image credit: All Resource Updates
Place- Loktak Lake, Manipur
 A glimpse across the vast Loktak Lake in Manipur, and you will find numerous hummocks on it. On closer observation, you will see that these hummocks are in fact small islands, circular in shape. They have resulted due to the accumulation of organic matter and soil. Houses have been built over some of the islands, while others  remain uninhabited. On the fringes of the lake there also lies Keibul Lam Jao National Park; the only floating national park in the world.
5. Lost Under The Banyan Tree
Image credit: Wikimedia
Place – Acharya Jagdish Chandra Bose Botanic garden, Kolkata
Popularly known as the Great Banyan Tree, this 250 year old tree is one of India's natural wonders. It has been drawing attention due to its size. Spread over 4 acres, it is counted as one of the largest trees in the world. Astonishingly, despite its main trunk having been removed due to decay in 1925, the tree continues to grow, and given its plethora of aerial roots, it feels as though you have entered a forest.
6. Visiting The Land Of Fairies
Image credit: Wallpapers Facts
Place- Valley of Flowers, Uttarakhand
Nestled in the Himalayas, Valley of Flowers is a National park. It is one of the most famous trekking trails, that Uttarakhand has been endowed with. While locals consider it as a place visited by fairies, it is no less than a dreamland. The valley is enriched with diverse varieties of flora and fauna that range from orchids, daisies, rhododendron, primulas, poppies, to name a few. It is home to rare species of animals such as snow leopard, blue sheep, red fox. In all, it is a spectacular trek, and worth a visit for nature lovers, photographers and adventurers alike.
7. Immersing In The Ecstatic Glimpse Of Lonar Crater
Image credit: India Marks
Place – Buldhana District, Maharashtra
Seemingly out of a sci-fi movie, a meteor hit the Buldhana district of Maharashtra decades ago, and left behind a crater that has become a place of interest, for people to visit. The crater bears alkaline as well as saline water, that supports the life of some atypical micro-organisms. Surrounding the lake are several temples, of which only one remains in good condition, the rest are ruins. For bird watching, the surrounding forest is a paradise where spotting an array of bird species, is a common sight.
8. Under The Stars At The Raan of Kutch
Image credit: Travelling Boots
Place – The Rann of Kutch, Gujarat

Bagging the title of the world's largest salt dessert, The Great Rann of Kutch leaves no stone unturned in mesmerizing one, with its vast landscape. The dessert is a seasonal stretch of white salt, particularly charming under moonlit nights. Another phenomenon witnessed is Chir batti, in the nearby Banni grasslands where unexplained lights are spotted moving. The light changes its color to red, blue and yellow and has been regarded as Ghost lights by villagers. However, science claims that the lights are emissions caused due to oxidation of certain gases.
9. Soaking In The Spectacular Milieu Of Columnar Basalt
Image credit: Meena's Space
Place – St. Mary's Islands, Arabian Sea

Among the many geological locations in India, the basalt formed in Arabian Sea is one-of-a-kind, and definitely worth a look if you happen to be in Karnataka. Formed as a result of aerial and volcanic activities, there are 4 islands that are inclusively known as St. Mary's Islands. What sets them apart are the distinctive feature of hexagonal columnar joints, which is a rare find and hence has been considered of significance, from the viewpoint of Geo Tourism.
10. Find Your Way Through Belum Caves
Image credit: Ixigo
Place – Kurnool district, Andhra Pradesh
If you seek some thrill, then Belum Caves are going to amaze you with its impressive formations of stalagmites and stalactites. The cave is 150 ft deep and 3229 m long. Along the way you will come across unique chambers. For instance, musical chambers that produce sound when struck, 'Thousand hoods' chamber that has formations resembling the hood of cobras, meditation chamber where Buddhist monks used to worship, Banyan tree hall where the formations resemble the shape of a Banyan tree with hanging roots.
In pics: 100 most beautiful places in India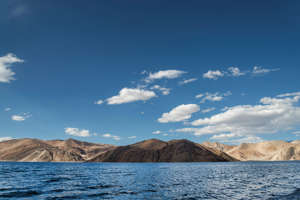 Also watch: Best city in the world (Provided + Travel Leisure)