10 Reasons Kerala Is The Destination If You Want To Unwind And Relax

Polka Café
11-10-2018
God's Own Country - this title has been bestowed upon the southern state Kerala for a reason; actually many reasons. From its beaches to scenic viewpoints, backwaters to tea plantations, this place has everything you need to unwind and relax.

Here's a list of 10 reasons that make Kerala one of the most sought-after travel destinations for one and all.
1. Backwater Cruise
Image credit: India Marks
No matter how tired or stressed you may be, a houseboat cruise through the backwaters of Kerala will surely rejuvenate you. There are hundreds of luxurious houseboats that cruise over the backwaters offering you an amazing stay experience for a lifetime. You sail through the backwaters throughout the day and rest in the stationary houseboat at night. All meals of the day are also included in these houseboats.
2. Beach Fun
Image credit: Trans India Travel
If you are a beach junkie then surely Kerala has lots of beaches to spoil you. You can just sit by the beach side and watch the magnificence of the sea or engage in some water sports.
3. Wildlife
Image credit: Vuk Wildlife
With over 20+ wildlife sanctuaries and national parks situated in all parts of the state, Kerala is the perfect destination for you if you enjoy wildlife safaris, spotting wild animals and wildlife photography.

4. Hill Stations

Image credit: Travel Triangle
If you are enamoured by hills and trekking then Kerala has a lot to offer - from Munnar to Nadukani, you are spoiled for choice when it comes to hill stations.
5. Tea Plantations

Image credit: Trav Mate Holidays
Have you ever wondered where your flavoursome morning and evening tea comes from? Chances are that they get produced in this flourishing state. There are enough and more tree plantation sites all around the state but the one in Munnar is the most famous.

6. Cultural Performances

Image credit: Kerala Tourism
When in Kerala, you must attend a Kathakali performance, one where the performers do not sing or speak but enact the stories through graceful gestures, postures and facial expressions. Other cultural performances you can definitely enjoy in Kerala include Bharatnatyam, Koothu and Mohiniyattam.
7. Folk Arts

Image credit: Better Photography
If you like to explore the traditional folk art of Kerala then definitely attend a Kalaripayattu performance, one of the oldest martial art forms in the world, which is native to Kerala. Be prepared to have goosebumps as you witness the dare-devil acts!

8. Ayurveda

Image credit: Kerala Tourism
Kerala is the land of Ayurveda and a trip here warrants a traditional oil massage at one of the many Ayurvedic massage centres and spas there. These massages not only enhance your outer beauty, they also cure various illnesses besides giving your mind relaxation and peace.
9. Shopping

Image credit: Just Kerala
Kerala is known for its spices, medicinal ointments and beauty care products and you must pick these up from the local markets in your city. You can also pick up amazing Kerala snacks such as banana chips for your near and dear ones back home. If you are planning to explore Kochi, do check out LuLu mall, a one stop destination for everything under the sun!

10. Food

Image credit: Dynamic Travels
If you are an explorer, do try Kerala's authentic food including appam with stew, ghee roast dosa with sambhar and of course, the sea food. In case you are from North India and would prefer sticking to that cuisine, there are enough more vegetarian and non-vegetarian North Indian restaurants across the state. You must also try these delicacies from Kerala, to get an actual feel of the state!
What do you like the most about Kerala? How have your trips been at this green state? Tell us, in the comments section below.
In pics: Exploring Wayanad -  The hidden treasure of Kerala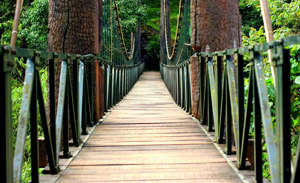 Also watch: Fastest growing travel destinations in the world (Provided by Buzz 60)

Download the Microsoft News app for your Android or iPhone device and get news & live updates on the go. Follow our Lifestyle section in English and Hindi.