The world's greatest road trips, according to Instagram

The Independent
08-11-2018
North America has the lion's share of the world's greatest road trips – at least if Instagram is anything to go by.
The continent claims five of the six most papped routes on the photo-sharing platform, according to TravelSupermarket, which aggregated the top 25 road trips and pit stops based on hashtags.
The number one spot went to the US's 3,940km-long Route 66, which has been snapped and tagged on Insta a whopping 1.2 million times. The road trip starts in Chicago, Illinois, and ends in Santa Monica, California.
Other North American contenders in the top 10 include Blue Ridge Parkway, which runs through Virginia and North Carolina, New York's Finger Lakes Highways and the Valley of Fire road in Nevada.
Europe makes a showing in the top 10 twice thanks to Scandinavia – Iceland's Ring Road comes in seventh with 104,374 tags, while Norway's Trollstigen rolls into eighth with 55,800.
The UK doesn't make an appearance until the Causeway Coastal Route in Northern Ireland, which scored 14,548 snaps, putting it in 20th place.
"Starting in Chicago and ending in Santa Monica on the suburbs of Los Angeles, it comes as no surprise that Route 66 has come out on top with its 2,448 miles of stunning views," says Emma Grimster, TravelSupermarket spokeswoman.
"Tourists travel through the likes of Illinois, Missouri, Kansas, Oklahoma, Texas, New Mexico, Arizona and California, lending plenty of opportunities to capture that perfect snap for Instagram.
"Our research also shows several other popular routes across both North and South America, alongside popular routes in the likes of Vietnam, India and South Africa showing the picturesque road trips and pit stops the world has to offer."
The 10 most Instagrammed road trips
Route 66, USA: 1,198,035
Great Ocean Road, Australia: 928,503
Ruta, Argentina: 732,808
Blue Ridge Parkway, North Carolina/Virginia, USA: 322,840
Finger Lakes Highways, New York, USA: 241,295
Valley of Fire Road, Nevada, USA: 143,712
Ring Road, Iceland: 104,374
Trollstigen, Norway: 55,800
Icefields Parkway, Alberta, Canada: 54,153
Cabot Trail, Nova Scotia, Canada: 51,562
In pics: Amazing road trips around the world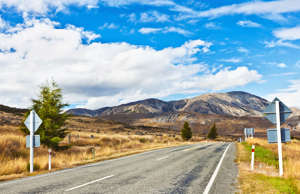 Also watch: Most efficient US road trip of all time (Provided by Travel + Leisure)

Download the Microsoft News app for your Android or iPhone device and get news & live updates on the go. Follow our Lifestyle section in English and Hindi.