Heavy rains lash Karnataka, PM Modi assures help, Kumaraswamy takes stock

Hindustan Times
30-05-2018
WATCH: Relief force on alert in Karnataka
(Provided by NDTV)
The low-lying areas in the coastal districts of Dakshina Kannada and Udupi were inundated, flooding roads, disrupting traffic and throwing life out of gear in parts of Karnataka.
Taking note of the situation, Prime Minister Narendra Modi took to Twitter and said he has spoken to officials and all possible assistance will be provided. Home minister Rajnath Singh and Chief Minister Kumaraswamy also took stock of the situation.
Modi said, "I pray for the safety and well-being of all those affected by heavy rains in various parts of Karnataka. Have spoken to officials and asked them to ensure all possible assistance in the affected areas."
I pray for the safety and wellbeing of all those affected by heavy rains in various parts of Karnataka. Have spoken to officials and asked them to ensure all possible assistance in the affected areas.

— Narendra Modi (@narendramodi) May 29, 2018
According to Dakshina Kannada deputy commissioner Saisikanth Senthil, so far 12 people have been injured, and 52 houses in Mangalore and 12 houses in Bantwal have been damaged. Five rehabilitation centres have been opened and compensation for the injured will be announced soon.
Live weather update: Karnataka
Kumaraswamy took stock of the situation from the deputy commissioner and directed the latter to take assistance from the coast guard to rescue people. The chief minister also instructed the deputy commissioner to take the necessary precautionary steps to mitigate severe damage and prevent loss of lives. Schools have been shut.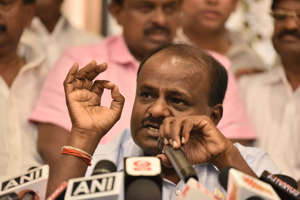 The Home Minister's Office also tweeted on the situation.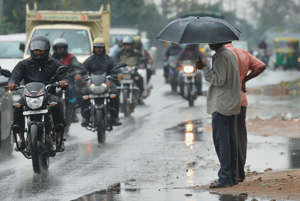 "HM Shri @rajnathsingh has reviewed the situation in Mangaluru and other areas after the reports of heavy rains in coastal Karnataka. He has asked the Home Secretary to rush more NDRF teams to Mangaluru if required. MHA is closely monitoring the situation in coastal Karnataka," the office of Home Minister Rajnath Singh tweeted.
Rescue operations are underway in Mangalore's Panambur area as the locality is facing water-logging.
Official sources here said Mangaluru city witnessed 'unforseen' rainfall,flooding roads,damaging shops and houses.
Boats had to be used to ferry stranded people, including school children at Alake in Kudroli area in the city, which was almost submerged, the sources said.
Students of Alake Gujarati school could not get out of the school building due to water logging. Fire and rescue service personnel and members of the public extended help to the children who were brought out of the school, they said.
Water entered several factories in Baikampady industrial area in the flood caused by heavy rains, resulting in huge losses.
Factory owners said such a situation had not been witnessed in the last few decades.
The heavy rains flooded most parts of the city, leaving commuters stranded at many places. Arterial roads saw traffic snarls since morning.
The site for construction of a flyover at Pumpwell circle and Thokkottu area were flooded, badly affecting traffic.
A house under construction collapsed at Pumpwell and Kuthar junction was surrounded by water.
Rainwater also flooded the Padil underbridge, where many vehicles are still stuck. Many vehicles were seen almost under water at Hampankatta and Bejai in the city.
Mangaluru and Bantwal taluks were the most affected, while rainfall was scarce in Puttur, Sullia, and Belthangady taluks in the district, the sources said.
About 130 buildings, including houses, were partially or fully damaged in the rains in the last two days in Udupi district, district administration sources said.
Meanwhile Meteorological department sources said the state was now witnessing pre-monsoon showers and the exact date of the entry of monsoon would be declared after observing for two or three days.
ALSO IN PICS: The strange beauty of sandstorms