Marriage expert shares four hacks for your love life

9Honey
8/10/2017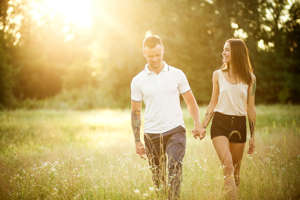 Hacks usually refer to household chores, or cooking; they're simple ways to make your life easier. Not something you'd generally relate to your love life, but Marriage expert Wendy Walsh says that you can absolutely apply this school of thinking to your marriage.
Wendy appeared on Today Extra, where she told David Campbell and Sonia Kruger that there's too much pressure on our relationships. 
"We're putting marriage as the be all and end all to our happiness," Wendy said. "So the question is, do we put more pressure on our marriage or do we find some simple, easy ways to remind us why we're there and how to quickly make our marriage matter?"
She then shared just four simple hacks, that she believes can revive any relationship:
1. "The first hack is to just touch each other more often. You release dopamine when you do that. They've had studies that show that people who are touching each other tend to produce more happiness."
2. "Don't jump to conclusions. If your partner does something, don't imagine it's a character flaw. Imagine that, maybe there's a reason why they did it. Also, my favourite; picture a fight from the outside, like you're a stranger in the room watching."
3. "Make a gratitude list.
It's said that people who think of their partner, and hold their partner in high self-esteem, tend to have happier marriages."
4. "Learn to celebrate the small victories. If they come home with some news from their day, get excited! Be their cheerleader."
"It's a lot of little things that create a big change," Wendy explained. "And more than anything it reminds your own brain of why you love your partner so much."