High Court orders Najib, wife and seven others to enter defence

The Star Online
11/10/2017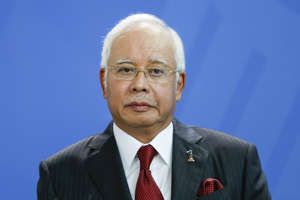 © Getty KUALA LUMPUR: Prime Minister Datuk Seri Najib Tun Razak, his wife and seven others have been ordered to file their defence in a suit filed by P. Balasubramaniam's widow A Santamil Selvi after the High Court here dismissed their stay application.
Santamil Selvi's counsel Datuk Seri Gopal Sri Ram said Justice Hue Siew Kheng dismissed the application, ruling that there were no special circumstances shown to warrant the stay.
He said the court directed for the defence to be filed 14 days from Wednesday and added that the case management has been fixed on Nov 1.
Sri Ram added that the date of the hearing of the striking out application would be fixed on the same day.
The defendants filed the application for stay last month on the grounds that there was no legal standing and no reasonable cause of action for the case, while the application to strike out the suit was filed in August.
Sri Ram told reporters this after parties met Justice Hue in chambers on Wednesday.
P. Balasubramaniam's wife Santamil Selvi and her three children - B. Kishen, B. Menaga and B. Reeshi - filed the suit on July 13, this year.
In the statement of claim, the plaintiffs have named Najib, Datin Seri Rosmah Mansor, Najib's siblings - Datuk Ahmad Johari and Datuk Mohd Nazim, counsel Tan Sri Cecil Wilbert Mohanaraj Abraham and his son Sunil Abraham, commissioner of oaths Zainal Abidin Muhayat, carpet seller Deepak Jaikishan and counsel M. Arulampalam as the defendants.
Santamil Selvi filed the action in her personal capacity and on behalf of the estate of Balasubramaniam.
The plaintiffs claimed that they had to move to India due to the second statutory declaration made by Balasubramaniam in relation to the murder of the Mongolian model Altantuya Shaariibuu.
Santamil Selvi and her children said they moved to India for 56 months from July 4, 2008, until Balasubramaniam died on March 15 last year.
Santamil is seeking RM840,000 in damages, including the rental of an apartment in Chennai, India, her children's school fees and the loss of income as a kindergarten teacher, housing loan, transportation cost, general and special damages and costs.
On Dec 11, 2014, High Court judge Justice Hasnah Mohammed Hashim struck out the plaintiffs' suit, saying that the plaintiffs did not have the legal standing to file the suit as there was no letter of administration of the estate issued by any court.
Justice Hasnah said the plaintiffs should have filed the suit between 2008 and 2013 when the conspiracy allegedly took place or before Balasubramaniam passed away and added that Santamil Selvi lacked the capacity to file an action on behalf of her late husband's estate.
More on MSN News:
Most amazing prison escapes